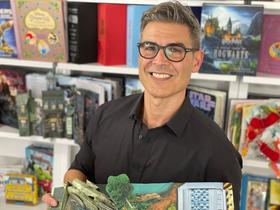 Matthew Reinhart
Reinhart Pop-Up Studio, an imprint of Insight Editions, is the creative home of master paper engineer and award-winning author Matthew Reinhart.
Reinhart Pop-Up Studio expands the boundaries of books with innovative paper engineering, gorgeous illustrations, and engrossing writing. Bringing a new dimension to popular brands and beloved stories, Reinhart Studios creates original pop-up experiences that surprise, illuminate, and delight readers of all ages.
Reinhart Pop Up Studio will publish 8-10 titles per year that combine Reinhart's unparalleled mastery of pop-up innovation and creativity with Insight Editions' signature high-quality production. The list will include original content as well as showcase licensed properties including Harry Potter, Disney, and Star Wars.
Reinhart's first pop-up book was 1999's hit A Pop-Up Book of Phobias. Since then he's created and collaborated on more than 50 books for all ages, including the New York Times bestselling Encyclopedia Prehistorica trilogy and Mommy? written by Maurice Sendak.
Previous partnerships with Insight Editions include Star Wars: The Ultimate Pop-Up Galaxy, DisneyPrincesses: A Magical Pop-Up World, Jurassic World: The Ultimate Pop-Up Book, and the Clio Award-winning A Pop-Up Guide to Hogwarts and Beyond.
"As a publisher, Insight Editions thinks out-of-the-box. They've always been willing to take big risks on complex projects, allowing me to transform my big, impossible dreams into stunning, complex pop-up books. The Reinhart Pop-Up Studio imprint takes our partnership to a new level, creating a home for the kind of books and collectibles that only we could make together," said Matthew Reinhart.
Insight Editions' founder and CEO Raoul Goff said, "Since our first project together, I've been astounded by Matthew Reinhart's creativity and brilliance. There is literally no idea too outlandish, no boundary he's not willing to push to create an innovative pop-up experience. Together with Insight Editions' editorial and production teams, I'm thrilled to collaborate on an imprint that enables Matthew to bring his singular visions to life."