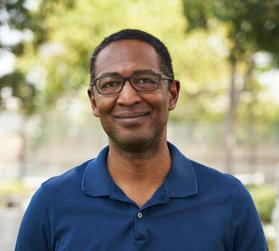 Nachie Marsham
Nachie Marsham is the Publisher of IDW Publishing and has been working in the industry since 1997. Prior to IDW Publishing, Marsham was Executive Editor at Disney Publishing Worldwide, where he led the Marvel Press imprint from 2018 to 2020. Earlier, Marsham spent over eight years in editorial at DC Comics.
One of the great joys of working at IDW Publishing is knowing that there's a whole world of our fans out there, even if some of those fans haven't realized it yet--yourself included! Our friends at Shelf Awareness have given us a wonderful opportunity to present to you a brief look at the full breadth of our offerings, so you can see that IDW has something for everyone!
Throughout the years, we've been fortunate to have amazing partners who trust IDW to tell compelling stories with world-renowned brands that include Dungeons & Dragons, Godzilla, My Little Pony, Sonic the Hedgehog, Star Trek and Teenage Mutant Ninja Turtles. Always respectful of the legacies of such icons, our talented creators still find ways to leave an indelible mark on each franchise.
The Top Shelf imprint, which celebrates its 25th anniversary this year, is one of the true graphic novel pioneers, championing distinct voices and changing the public perception of comics from a niche format to the mainstream. Top Shelf brings literary sophistication to graphic novels that readers of all walks can embrace. We've recently brought the multiple award-winning Artist's Edition format--once exclusively available to comic shops--to the book market. Finally, our newest publishing initiative has seen IDW reach out to the creative community, welcoming fresh ideas that span diverse age ranges and genres and offering audiences wild new worlds to explore.
New York Times bestselling author Stephen Graham Jones, author of the mind-bending new series Earthdivers, and our own Editor of Original Middle Grade and YA titles, Megan Brown, will elaborate a little more on those projects in this issue. We hope that you'll agree that, wherever readers are looking for projects that are bold, genuine and of the highest quality, they can turn to IDW!