Keep an eye out for these upcoming books from IDW: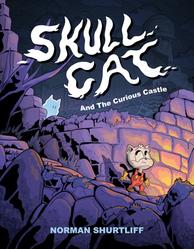 Skull Cat (Book One): Skull Cat and the Curious Castle by Norman Shurtliff (Top Shelf Productions, $14.99 paperback, 112p., ages 9-12, 9781603095198, February 14, 2023)
It's Scully the Cat's first day at Le Dark Chateau and, even though the castle is eerie and full of dark secrets, Scully is excited to start his new job and prove himself to be a great gardener. But what happened to all his co-workers...? Scully must become the hero to uncover the truth. Middle-grade lovers of fantasy and spooky adventure should treasure Norman Shurtliff's debut graphic novel.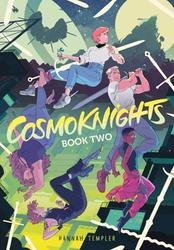 Cosmoknights (Book Two) by Hannah Templer (Top Shelf Productions, $24.99 paperback, 264p., 9781603095112, May 2, 2023)
Pan has finally escaped her dead-end planet, piecing together a new sort of family with the rebel gladiators Bee and Cass and the mysterious hacktivist Kate. The sensational "gays in space" webcomic/graphic novel returns with new faces, long-awaited reunions, higher stakes and more thrilling action! Hannah Templer's Cosmoknights follows a ragtag group of queer outer-space gladiators as they fight to escape--and possibly overthrow--the neo-medieval patriarchy that rules their universe.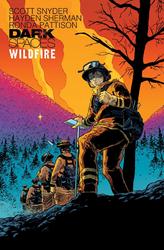 Dark Spaces: Wildfire by Scott Snyder, illus. by Hayden Sherman (IDW Publishing, $14.99 paperback, 144p., 9781684059614, May 9, 2023)
Dark Spaces is a thrilling new anthology series that explores humanity's deepest fears, beginning in the smoldering hills of California. Six weeks into the burn of the Arroyo Fire, a crew of women from an inmate firefighting program work the frontlines. Their newest recruit proposes a plan to abandon their duties and hunt for riches, and the team must decide if they're ready to jeopardize their sure path back to normalcy for a shot at a life-changing score. Scott Snyder and artist Hayden Sherman craft an unforgettable heist for a new age in Dark Spaces: Wildfire.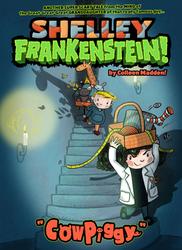 Shelley Frankenstein! (Book One): CowPiggy by Colleen Madden (Top Shelf Productions, $14.99 paperback, 176p., ages 9-12, 9781603095228, May 16, 2023)
Shelley Frankenstein is the great-great-great-granddaughter of a famous mad scientist. She loves to be scared and tries to make creepy creatures to spook all her friends. Then Shelley and her little brother/assistant, Iggy, stumble upon a haunted graveyard that gives them an idea for the ultimate monster. Throw in a couple abandoned toy animals and behold: Cowpiggy! Twists and turns are around every corner in this sweet and spooky graphic novel for independent young readers.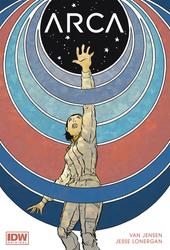 Arca by Van Jensen, illus. by Jesse Lonergan (IDW Publishing, $16.99 paperback, 176p., 9781684059980, July 11, 2023)
The world burned. But the rich and powerful had a plan. When society fell apart, a select group of billionaires had an escape hatch: a rocket aimed at the nearest habitable planet and a ship equipped with many of the luxuries of life on Earth. Their every need is tended to by enslaved teenagers who agreed to the role in return for the promise of a new life. However, inside a sealed chamber a teenager named Persephone discovers that the promised future of comfort is a myth. With that knowledge she fights for her survival against the billionaires who would gladly kill her to protect the hidden truth.