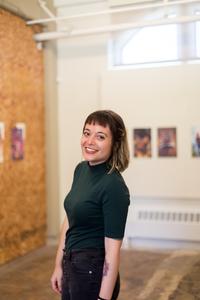 Megan Brown
Megan Brown is a Middle Grade & Young Adult Originals Editor at IDW Publishing. Brown has previously worked on licensed titles such as Marvel Action: Captain Marvel, Read Only Memories, Dungeons & Dragons and TMNT. Here she chats with Shelf about what she looks for in young adult and middle-grade titles and some upcoming IDW titles she's delighted to publish.
You are an Original Middle Grade and YA titles editor. Would you tell our readers a little bit about what your job entails?
Of course! Being an editor is sort of like being a combination producer/director--it's my responsibility to find projects, help get them off the ground, hire anyone who needs hiring, work with folks over here to make schedules, make sure creators are sticking to those schedules and... Whew! It can be a lot! The director bit comes in when you're helping to edit the story itself--essentially you want to be aware of the creator's vision and purpose and help shape the story to best suit that vision and purpose.
I tell people that mostly, though, I keyboard smash about the amazing people I get to work with. I'm very lucky to be able to collaborate with some fantastic writers, artists, colorists and letterers, so it makes the day-to-day job easy.
You previously worked on IDW Licensed titles--were you working with middle-grade and YA titles before? What made you excited about joining the Originals team?
I was working with a lot of middle-grade and young adult titles, yeah! I was lead editor on My Little Pony: Friendship Is Magic for the end of its 100-plus issue run and helped edit our Marvel Action line. Those stories were always super gratifying and fun to work on, not only because of the vibrant characters and the sandboxes we would get to play in, but because we were able to tackle a lot of important topics and themes.
Getting to join the Originals team was sort of an extension of that! I was very excited to have the opportunity to create a space for meaningful, diverse stories about the struggles and triumphs that kids and young adults face. Growing up is a tumultuous time, and if we can offer readers a bit of understanding during it all, then I'm doing my job right.
What is it you're looking for in books for teens and tweens?
Hook, heart and character! I'm always more drawn to stories that have a very clear path of growth for the main characters, whether I'm looking at slice-of-life middle-grade books or YA fantasy epics. I am most drawn to relatable characters that readers can see themselves in who have strong voices and characters who start in one place and end in another (hopefully better) place.
Are there titles that you're particularly excited about or proud of?
Everything! All the titles! But I really want to highlight Codex Black: A Fire Among Clouds, which is this kinetic, heartfelt project about a young girl, the god who lives in her poncho and her winged best friend as they set off on a quest to find her missing father. It's been such a joy to work on this book, and I've learned so much about 15th-century Mesoamerica thanks to author Camilo Moncada L.'s knowledge and meticulous research. On top of that, Camilo's art is so dynamic, and Angel DeSantiagio's gorgeous colors absolutely transport you. I can't wait for folks to get to read it!
Is there anything else you'd like to tell Shelf readers?
Just that this is only the start! IDW has put together a wonderful slate of original stories moving forward into 2023. I wish I could be more specific, but you'll just have to keep your eye out--trust me, it'll be worth it! In the meantime, you can check out samples from our upcoming titles in our Middle Grade and Young Adult Sampler.