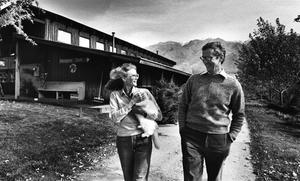 Gibbs and Catherine Smith
In 1969, Gibbs Smith, then a student at the University of Utah, wrote his master's thesis on Joe Hill, a Utah labor leader. His thesis was published by Grosset & Dunlap as the book Labor Martyr: Joe Hill. The book inspired a movie that won the jury prize at the Cannes Film Festival in 1971.
Building on the success and profits from the film, Gibbs and his wife, Catherine, founded a publishing company called Peregrine Publishers. The couple wanted to establish an independent company very different from "The Big Six" publishers that dominated at the time.
Their first office was in Santa Barbara, California, where they published four supplementary history textbooks for college classrooms. The company moved to Utah in 1973 and was renamed Peregrine Smith. Gibbs and Catherine poured their profits into the business and converted an old family barn built in 1916 into offices. Shortly after, they proudly published their first state history textbook, Utah's Heritage, for seventh graders.
Without a sales force or a distribution network, the couple packed up their truck and traveled throughout the state to sell Utah's Heritage to as many schools as possible. When they proved successful, the company developed additional textbooks and slowly expanded into new states and added new subject categories for the book trade, including home design, cooking, wilderness, and children's books. As the company grew and changed, Gibbs never forgot sharing the barn with cows those first few years. He said, "You could hear them mooing through the walls.... People could hear them over the phone, too." When he would explain the ruckus, the response on the other end of the line would always be the same: "You do what? From where?"
In 1993, the company was renamed Gibbs Smith, Publisher. Over the years, it became an industry leader, creating books on interior design with high-end designers, launching a cookbook line (including a title on the New York Times bestseller list); and growing an impressive children's list. It branched out over the years to include several imprints and brands, including 101 Things to Do With (in 2001), BabyLit (2011), LoveLit (2013), Flying Frog (now 7 Cats Press; 2019), and Spumoni (2020). Every addition had the same goal: to enrich and inspire humankind.
In 2015, Gibbs and Catherine sold the first half of the organization to employees via an ESOP, ensuring their dream would pass to future generations. Last year, employees bought the other half of the company.
Gibbs Smith passed away in 2017. Doug Pfeiffer, former PubWest President, noted that Gibbs had "been a vital part of the Western publishing scene. His reputation as a publisher of high-quality books and a contributor to the community of the book is an inspiration to all publishing businesses across the country."
Jenn Risko, Shelf Awareness Co-founder and Publisher, added: "When I was the National Accounts Manager at Pacific Pipeline, we acted as the vendor of record for most western publishers, and I was in charge of selling them to all the chains. So many of my phone calls were publishers demands. Then there was Gibbs, who would call regularly to say, 'Thank you' and 'How can I help?' He was the consummate publisher: incredible eye and taste, lovely to be around and always thoughtful about how to do better. It is such a joy to see how Brad and the owner-employees at Gibbs have carried out his dreams into a present-day reality."