Edible Wild Plants, Volume 2: Wild Foods from Foraging to Feasting by John Kallas, Ph.D. ($27.99, 9781423641346, May 16)
This is a user-friendly, pictorially based guide providing all readers need to know to start fully enjoying wild foods. It helps them successfully identify plants, develop gathering strategies, and learn preparation and cooking techniques. It lays a foundation and covers plants one is likely to come across on a daily basis in North America or Europe. The book has 460 photographs and illustrations, fun and authoritative text, focused attention on plant details, nutrient tables, range maps, recipes, and a plethora of additional preparation and cooking tips.
This book features plants in five flavor categories: foundation, tart, pungent or peppery, bitter, and distinctive & sweet, an approach that helps readers use the plants in pleasing and predictable ways. Imagine frequently including cattail, nettles, pokeweed, marshmallow, daylily, wild radish, and everlasting pea in your meal planning knowing that you acquired these plants from your own foraging adventures. There is also a section devoted to identifying and knowing poison hemlock, often confused with wild carrot in certain stages of development.
John Kallas is an authority on North American edible wild plants and other foragables, and has learned about wild foods through formal academic training and more than 35 years of hands-on field research. He has a doctorate in nutrition, a master's in education, and degrees in biology and zoology. In 1993, he founded the Institute for the Study of Edible Wild Plants and Other Foragables along with its educational branch, Wild Food Adventures. Located in Portland, Oregon, his company offers regional workshops and multi-day intensives on wild foods.
Puppy Love: An Illustrated Guide to Picking Your Perfect Canine Companion by Melissa Maxwell, illustrated by Sara Mulvanny ($17.99, 9781423663546, May 16)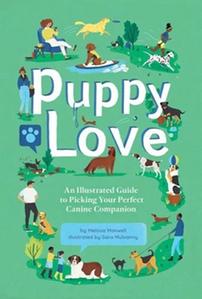 Taking its cues from online dating, Puppy Love hilariously explores the pros and cons of puppy-parenting different types of canine companions. The perfect gift for any dog lover, these illustrated doggie dating profiles will have you howling with laughter.
Puppy Love delves into the doggie dating scene by first setting the foundation for a successful relationship, including the keys to successful cohabitation and how to know when you've found The One. More than 40 pooch profiles cover everything from grooming, personality, and deal breakers. Love long walks? The short-legged Corgi might struggle to keep up. Have a penchant for expensive, fragile home décor? The gentle giant Great Dane might break your stuff--and your heart. Not sure where to start? Take the Cosmo-inspired quiz to narrow down your matches.
Melissa Maxwell is an editor and author of many books. Sara Mulvanny has worked on a range of projects from books and magazines to large-scale illustrations for museums and restaurants. When not in her studio, she loves to go for walks in the surrounding countryside with Mabel, her Airedale puppy.
Egg Rolls & Sweet Tea: Asian Inspired, Southern Style by Natalie Keng ($32, 9781423661498, June 6)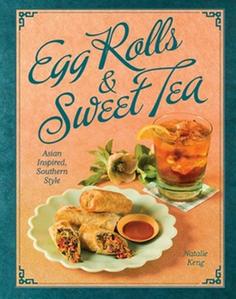 Ni hao, y'all! Egg Rolls & Sweet Tea: Asian Inspired, Southern Style is in part a memoir of Natalie Keng's personal food journey growing up in the deep South, but it's also a cookbook full of tasty Asian-American and Southern fusion dishes, sauces, and drinks that home cooks will enjoy preparing and sharing. Its 100 recipes celebrate inclusivity and diversity at the dinner table with the best from various cultures, cooking styles, and comforting foods. Among the recipes: Fried Chicken Spring Rolls with Honey; Rainbow Black-Rice Salad; Okra and Tomato Stir-Fry; Black-Eyed Pea Hummus; Georgia Bourbon Coca-Cola Meatloaf; Golden Milk and Sorghum Hot Toddy; and, of course, several recipes for egg rolls and sweet teas.
A pioneer in innovative leadership development, Natalie Keng is the founder and CEO ("Chief Eating Officer") of Global Hearth, a business that leverages the power of food and culture to promote team-building and employee engagement in support of corporate initiatives through its Cooking Up a Better World platform. Locally known as the Chinese Southern Belle, Keng is the creator of an award-winning line of Georgia-grown, Asian-inspired sauces (launched at Whole Foods Market) that feature natural ingredients and old family recipes, earning her the title The Sauce Maven. Before starting her own business, Keng was a strategic marketing executive in a Fortune 100 corporation. Keng is a recipient of the Greater Women's Business Council's Trailblazer Award and was appointed to serve on the Governor's Health Task Force. A graduate of Vassar College, Keng holds a Master of Public Policy from the Harvard Kennedy School of Government.
Southern Lights: Easier, Lighter, and Better-for-You Recipes from the South by Lauren McDuffie ($30, 9781423661474, June 6)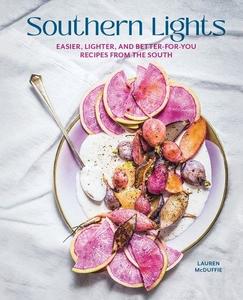 Southern Lights offers a fresh take on Southern-style cooking rooted in the notion that great Southern food doesn't have to be heavy or unhealthy. This is for the modern home cook and has more than 100 recipes for simple Southern food, reimagined and made with less.
Besides remaking traditionally heavy recipes in a more healthful way, Southern Lights shows that some Southern fare is light to begin with (after all, the heart of Southern cooking features fresh, seasonal produce). This will also give readers ways to enjoy favorite Southern dishes more often and includes some seriously delicious Southern powerhouses for breakfasts, lunches, appetizers, snacks, dinners, holiday dishes, desserts, and more. Among the recipes: Sheet Pan Catfish with Okra, Corn, and Tomatoes; Chile-Soaked Watermelon with Smoked Almonds; Creamy Roasted-Garlic Mashed Potatoes; Pimiento Cheese Hummus; Hushpuppy Popovers; and Snow Cream for Southerners.
Lauren McDuffie is a cookbook author (Smoke, Roots, Mountain, Harvest), food blogger, photographer/stylist, and creator of the cooking blog My Kitchen Little and the food blog Harvest and Honey.