Fiona Watt
(© 2023 Usborne Publishing Limited)
Fiona Watt started working at Usborne in 1989 and has written and edited hundreds of books including baby and novelty, sticker, art and craft, cookery, science, and activity books. She has written all the titles in the award-winning That's not my... series and many in the highly successful Sticker Dolly Dressing series. She is the sixth biggest-selling U.K. children's author, with more than 10 million books sold in the U.K.
Sam Taplin grew up in a beautiful valley in Yorkshire, England, where he dreamed of being a writer, and after three years reading other people's books at university, he started writing his own for Usborne. He's been doing it ever since.
Would you kindly tell Shelf readers what your jobs are and what a "day in the life" looks like for you?
Watt: I'm an editorial director and writer at Usborne. In the 34 years I've been working here, I can honestly say that no two days are the same. I never quite know what will be on my desk when I arrive in the morning--whether it's surprise proofs or seeing finished copies of the 70th book in a series, it's still as exciting as it was when I first started.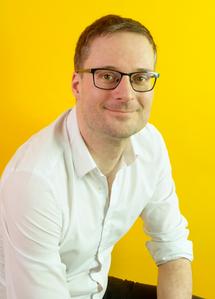 Sam Taplin
(© 2023 Usborne Publishing Limited)
Taplin: I agree with Fiona--there's a certain magic about working as a publishing manager and writer at Usborne that makes every day seem unique. It's all very organic, and our days aren't full of big meetings. We work collaboratively as a team of editors sharing ideas or individually with illustrators and designers. Relationships are hugely important. I think collaboration is the most consistent thing in our day-to-day work.
Watt: And that's what makes it so much fun! I've worked with Rachel Wells (illustrator, That's not my... series) for 30 years. There's a type of familiarity and understanding that comes with that longevity. At Publishing Director Jenny Tyler's 40th anniversary party, we went around the table saying how long we had each worked here. When we got to over 300 years cumulatively, we decided to stop.
Fiona, you are the author of Usborne series That's not my... and Sticker Dolly Dressing. Can you tell us a bit about those books?
Watt: That's not my... is what we call a "touchy-feely" range of board books, with patches of fabric that children feel and simple descriptive text relating to the featured animal or character. It's a deceptively simple formula. Its success is probably because it's a tactile and sensory experience, but there is also a comfortable rhythm to the repetition of the words.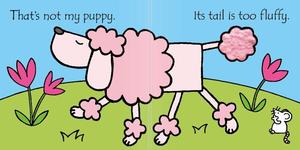 It's funny to look back on its success because the series almost didn't happen. Peter Usborne didn't want to publish a book with a negative in the title. Jenny Tyler and I persevered and eventually brought him around--over 20 million sold units later, I think he was rather pleased we pushed for it. That was one of the many great things about Peter--he was always willing to take a risk.
The difference with That's not my... is the careful consideration we apply to the texture and the animal/character. I had seen books with touch-and-feel patches, but quite often they were just cut into the side of a picture or photo of an animal, with no real purpose or reference to the textural quality. It seemed like a good idea to combine the physical attributes of different animals with a tactile patch and use adjectives to describe the texture.
There is an educational quality to the books that is extremely important for language development and visual literacy. Very young children will respond to the repetition and make connections between the pictures and textures, even if they aren't yet speaking.
Taplin: And you can't forget the little white mouse....
Watt: The mouse has become an additional repetitive and fun layer to the books. It's something else for children to spot and associate with the texture on each spread.
Taplin: It's always varied working in children's publishing!
Watt: It is--and it's why I love creating Sticker Dolly Dressing books too. Naturally they're very different in their style and function, but they also have an educational value, as they help to develop a child's hand-eye coordination and their concentration without the child necessarily realizing it.
Sam, your focus has been described as "tactile, humorous, novelty books for very young children." What are important aspects in the developing of those kinds of titles?
Taplin: It's a combination of things. It's got to feel right. It's important to us that we believe in the editorial quality of the book and not just its ability to sell. You get a sort of gut instinct when you know you've got something special. Getting to that point isn't always linear, and it can sometimes take time, but it pays off. Peter's mantra was to always "do it better." We take a lot of care and effort in what we do.
I can still remember the moment that the idea for the Don't Tickle books was conceived. Combining sounds and textures in one book was a point of difference already, but connecting the sensory element with the emotive appeal of tickling the animals was something that just instantly felt right.
Watt: It's interesting, because neither Sam nor I have children, but we seem to be able to intuitively inhabit a child's world. Perhaps it's our inner child guiding us?
Taplin: I think that way of thinking directly influences the creative process. I'm always thinking, always making notes. That real-world interaction finds its way back into the books I create. I think that comes from not looking at everyone else's books but going away and thinking on my own.
Of course, it's not a solo effort. Usborne is synonymous with sound books for children, and this is where our commitment to quality is so important. We work with a composer, Anthony Marks, to bring different environments and characters to life. Often, we'll go through 5 or 6 versions before we decide on the final one. I know I have the best job in the world when I reflect on times that I have exclaimed "this dinosaur doesn't sound angry enough!" or Anthony has asked "do you think this yeti sounds too mournful?"
What are you working on currently?
Watt: We're always looking at ways we can innovate and develop existing series to build on success. I'm currently working on a sub-series of That's not my... with additional sensory elements.
Taplin: A recent hit at book fairs has been our new Slider Sounds series. It's another example of where we had that "Eureka!" moment. Each time you move one of the sliders, an animal springs into view and makes a fun sound. But there's more! Move the same slider back again, and you'll see and hear a completely different animal. We're especially excited about this series.
What kinds of reactions are you hoping to elicit in young readers?
Watt: For me, it's a sense of curiosity and intrigue. Books go beyond just the words and pictures. They're simply a springboard to everything else you can imagine. And done well, they're often one of our earliest and fondest memories. The idea that one of my books might be the spark that grows something bigger has always been very exciting.
Taplin: I like to think of it as weaving magic through the pages. Building imaginary worlds for children to explore by juggling words, pictures, and other elements. I think every book has to feel like a mini adventure that you never want to stop being on. That's the best reaction I could hope for.