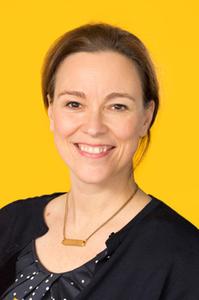 Nicola Usborne
(© 2023 Usborne Publishing Limited)
Nicola Usborne is MD of globally renowned children's publisher, Usborne (founded by Nicola's father, Peter, in 1973). Prior to this she worked at Scholastic in NYC, and as a BAFTA-winning film producer. Nicola studied at Oxford, London, and the Open University. With her father and brother, she founded the Usborne Foundation, a charity that has built the Teach Your Monster to Read suite of online games, which have been played more than 450 million times around the world. She lives in London with her husband and three sons.
I am truly thrilled to share a selection of Usborne's U.S. titles in partnership with HarperCollins.
My dad, Peter Usborne, set up Usborne in 1973 when he found out he was going to become a father. I have grown up with this company and watched the love, hard work, and belief that he poured into it. Sadly, my beloved dad died earlier this year, aged 85 and a 1/2--but not before kickstarting Usborne's 50th birthday year in 2023 by receiving a medal from King Charles III for "Services to Literature." He never retired (he loved making books too much!) and spent his final days in the office discussing U.S. plans. He always said that being a children's book publisher was the greatest privilege of his life--and he has been remembered all over the world as being one of the greatest pioneers in the industry.
After a number of years in children's publishing in New York, I worked alongside my dad for many years, building more formally on that great love for Usborne books that I gained growing up with them. Being able to continue my dad's astonishing legacy is a huge honor.
My dad created something truly special when he created Usborne, and we believe that it shows in the books we make. Quite unusually, all our books are conceived, written, and designed in-house, by our hugely talented team. You can feel the time, care, and attention that they put into them.
My dad's motto was quite simply, "Do It Better"--based on his belief that children of all ages deserved the very best books. Every book that we have ever published--and ever will--aims to spark curiosity. Whether that's a baby exploring one of our sensory books for the first time or an older child discovering big concepts through our nonfiction series, Usborne books always encourage children to explore the world around them, asking plenty of questions along the way.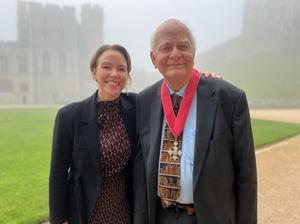 Peter Usborne receiving his CBE for Services to Literature at Windsor Castle, with Nicola Usborne, in 2023. Photo © 2023 Martin Usborne
Our books are phenomenally popular all over the world because we put children at the heart of everything we do. Usborne is a children's specialist: we only publish books for children, so we come at the world from a child's point of view. Our books are written in their language and designed for their curious eyes.
My dad said that Usborne books should be "good enough to eat." I hope that you will find our books irresistible and enjoy bringing them to children across the U.S.