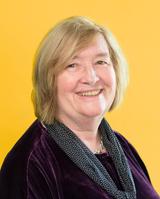 Jenny Tyler
(© 2023 Usborne Publishing Limited)
Jenny Tyler, Publishing Director at Usborne, joined the company as an editor in 1974, just a year after the company was founded. Prior to that, she had three other jobs and got a degree in Chemistry from Warwick University. Jenny is responsible for building the hugely successful publishing program for which Usborne is so highly regarded. Here she shares a selection of her favorite books on Usborne's 2023 Summer and Fall list.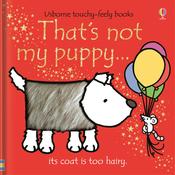 That's not my puppy... by Fiona Watt, illus. by Rachel Wells ($10.99, 9781805317180, September 5, 2023)
Little did we know that when we published the first That's not my... book in 1998, we would be selling one series title every minute in the U.K. 25 years later. Fiona Watt's simple but winning formula has seen this series become a much-loved household name. What better way to celebrate the reintroduction of the series in the U.S. than with a special sparkly edition of the very first title, That's not my puppy?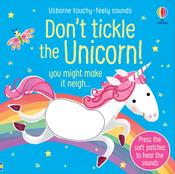 Don't Tickle the Unicorn by Sam Taplin, illus. by Ana Martin Larranaga ($17.99, 9781805317364, October 3, 2023)
A lot of thinking happens when we create any book. This one started with Peter Usborne asking, "What sound does a unicorn make?" I had a little think and said, "Neigh! Tinkle, tinkle!" to which he replied, "Oh yes of course." We then had to work out what was going to go in the book. Sam Taplin came up with a lovely story, and the designer created some wonderful pictures to go with it.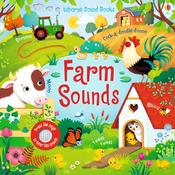 Farm Sounds by Sam Taplin, illus. by Federica Iossa ($19.99, 9781805317951, October 3, 2023)
I am very lucky to have two research assistants: my grandchildren, aged three and six. Their favorite sound in this book, and mine too, is the tractor because it's a real tractor sound recorded on a farm in France. The farmer was so proud to have his tractor featured that he dressed in his best clothes for the recording. Every time I hear the rumbling growl, I think of the farmer standing in his best hat, and it makes me smile.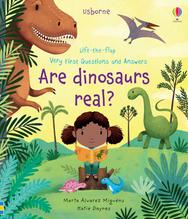 Very First Questions and Answers: Are Dinosaurs Real? by Katie Daynes, illus. by Marta Alvarez Miguens ($12.99, 9781805318323, July 4, 2023)
I have always loved the way that the author of this book, Katie Daynes, gathers children of friends and family in her garden and simply talks to them. She asks about what they want to know--"are dinosaurs real?" is one of the many questions she was asked. Katie uses this method to make books which will speak directly to children.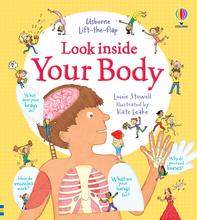 Look Inside Your Body by Louie Stowell, illus. by Kate Leake ($14.99, 9781805317258, September 5, 2023)
Children are very interested in their bodies, how they work, and what's inside them. This book, an Usborne heritage title and a global bestseller, is one that has stood the test of time. I think part of its success is the interactive format. The addition of flaps not only breaks up the text on the page but it's far more fun not to be told the answer straight away. In doing so, children are active and engaged readers.
* * *
Follow Usborne on:
Facebook: Usborne Publishing
Instagram: usborne_books
Twitter: Usborne
YouTube: Usborne
TikTok: usborne_books

Text and images copyright © Usborne Publishing Limited, 2023. Illustrations by Gareth Lucas.
Shelf Awareness banner © Shelf Awareness 2023, with permission from Usborne Publishing Limited, 2023