Notes: Google's China Apology; Rainy Day Books' Community
Google sent a letter of apology to the China Writers' Association and "agreed to hand over a list of books by Chinese authors that it has scanned in recent years... in an apparent effort to placate writers who say their works were digitized without their permission," the New York Times reported.

"We definitely agree that we haven't done a sufficient job in communicating with Chinese writers," admitted Erik Hartmann, head of the Asia-Pacific division of Google Books.

Novelist Mian Mian sued Google for copyright infringement last month. The Times noted that "a judge has urged both sides to settle the litigation. Google insists it is following Chinese and American copyright law and says digitized books are deleted upon the request of an author or publisher. It also rejects assertions that the company has made some Chinese books available on the Internet in their entirety."

Zhang Hongbo, the secretary general of China Written Works Copyright Society, called the letter and apology "a result that all Chinese copyright holders have been waiting for. We look forward to Google's deeper understanding of this issue."

---

Vivien Jennings, co-owner of Rainy Day Books, Fairway, Kan., told University News that after 35 years in the business, the lesson she "wants to share with readers is even cheap books can come at a high cost."

"The question of what do people perceive the future of the book is comes up fairly frequently at our author presentations," Jennings said. "People enjoy the convenience [of e-book technology] when they travel.... But what we are hearing from the readers is that they still prefer the reading experience with the book."

She predicted that the indie booksellers "who will still be in the book business in 2010 can't be just book people. They have to be really good business people. And they will have to be very, very connected to the community.... Business has been shifting for some time. Now, it is very much about relationships. There is a very high cost of cheap. And I think people are finally seeing it."

---

Cool idea of the day: Reading cereal boxes is a time-honored tradition, but the Los Angeles Times Jacket Copy blog reported that Irish children "will be getting something more than plastic doodads with their breakfast cereal. Publisher the O'Brien Press has teamed up with Hughes and Hughes Bookstore and American cereal maker Kellogg's to give away books to kids who collect vouchers from Rice Krispies boxes. Instead of the old-style mail-in for the prize, eager readers can walk into Hughes and Hughes stores to order or pick up their books."

---

Barnes & Noble College Booksellers plans to offer a multi-channel textbook rental program for college students that will enable them to rent textbooks from their B&N campus bookstore or its e-commerce site. Last fall, the company tested the rental program in three of its 636 campus bookstores and has since expanded it to 25 more.

---

B&N's nook e-reading device chalked up a few recent tech awards, including "Best Gadget" honor in the third annual Crunchies Awards, a number-two ranking in Time.com's recent "Top 10 Gadgets of 2009" and a place among Time's "Best Travel Gadgets of 2009."

---

Bestselling author and Rock Bottom Remainders guitarist Stephen King has agreed "to play a doom-mongering radio host on musician Shooter Jennings's new album," the Guardian reported, noting that the "concept album, Black Ribbons, will see King provide the voice of late-night talk show host Will O'The Wisp as he gives his final broadcast before being cut off by government censorship. While his character rants about the apocalyptic future that lies ahead for America, he plays songs from Jennings's band Hierophant."

---

Artist Mike Stilkey's "book sculptures" consist of images painted on book spines. This Blog Rules featured a selection of his works.

---

Book trailer of the day: The Girl with Glass Feet by Ali Shaw (Holt). The trailer is a slide show of illustrations of scenes in the book made by the author; the book itself is not illustrated.
---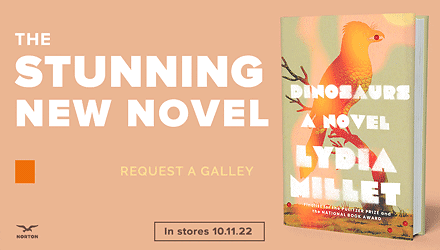 ---