Notes: French Digital Book Exchange & E-Book Pricing Proposals
Hoping to resolve the disagreement between France and Google regarding online publication (Shelf Awareness, December 21, 2009), France proposed a digital book exchange. A report commissioned by the French Culture Ministry "said the proposed swap would be mutually beneficial, but unlike other comparable deals would not carry any exclusivity clauses in favor of Google," Reuters wrote.

The report also suggested that "French books would be referenced by Google Books, while the national platform would benefit from works already digitised by Google, especially those provided by foreign libraries."

Culture Minister Frederic Mitterrand "praised the idea and said if Google was not interested, France could approach other private operators," Reuters reported.

---

In a related development, five major French booksellers "called on publishing houses and the government for support in creating a new retail structure for electronic books to fend off Amazon, Google and Apple," according to Reuters.

The retailers, including PPR subsidiary Fnac and Virgin Megastore, "said France should have a national e-book platform run by publishers and retailers with a single point of purchase... [and] urged the French government to extend protective measures already in place for physical books to e-books, including a single-price mechanism to muzzle competition," Reuters wrote.

Hachette Livre sales director Francis Lang expressed skepticism: "Creating a governance structure where everyone is around the table but their interests are opposed is the best way for this not to go anywhere."

James McQuivey, an analyst with Forrester Research, suggested that this "will probably be uniquely French if it succeeds. Obviously it would be the combination of cultural preservation interests that tend to be unique to France."
---
Education Media & Publishing Group, parent company of Houghton Mifflin Harcourt, is restructuring its debt for the second time in a year, the Wall Street Journal reported. The company had restructured its $7 billion debt in August in a move that reduced the investment of its owners.

Education Media now reportedly has $6 billion in debt. With the current restructuring, the company hopes to reduce that debt by 60% and have $600,000 in working capital. The owners' share of the company likely will be reduced further.

---

Next Tuesday Idlewild Books, New York, N.Y., is hosting author Simon Winchester, a geologist who will speak about the horrific and devastating earthquake in Haiti, Idlewild owner David Del Vecchio said.

In addition, Del Vecchio noted that one of his former colleagues "working in disaster relief at the United Nations will give an update on the humanitarian situation in Haiti, the most urgent needs going forward, and how we all can help. There will be a suggested donation of $10, and all proceeds from the sale of Simon's books and all the novels and non-fiction in our Haiti section will go to support relief efforts." Look for more details by the end of this week on Idlewild's website.

---

Cool (well, freezing, really) idea of the day: Although the current trend in bookselling is toward ever more computerized inventory control systems, Boswell Book Company, Milwaukee, Wis., shared its unique customer tracking device, known as the Saltometer.

"When there's a heavy snowfall in Milwaukee, it means one thing: massive piles of salt on the sidewalks of our fair city," noted the Boswellians blog. "We here at Boswell welcome it, of course. Not only does it keep the sides of Downer Avenue clear for pedestrians (come on by and see us!), it allows us booksellers to use that most hallowed of marketing tools: the saltometer. What is the saltometer, you ask? It's a highly sophisticated system by which we can look at the white-lined footprints all over the store and see what sections are really the most popular. Sure, we know what books you're all buying, but what about the books you read while you linger in the store on a frosty evening? Yes, the saltometer is the bookseller's friend."

---

Several booksellers shared their picks for the winter and spring season with USA Today, which featured an interactive books calendar showcasing upcoming titles through April.

"I'm really excited about The Postmistress," said Elaine Petrocelli of Book Passage, Corte Madera, Calif., of Sarah Blake's novel. "I think it could have the kind of following that The Guernsey Literary and Potato Peel Society had." She also recommended Amy Bloom's Where the God of Love Hangs Out and Chitra Banerjee Divakaruni's One Amazing Thing, which she called "my favorite by her so far. It reminds me of Ann Patchett's Bel Canto."

Audrey Bullar of Joseph-Beth Booksellers, Cincinnati, Ohio, praised Wench by Dolen Perkins-Valdez, noting, "Almost every copy we had pre-ordered was spoken for by the time it came in." She "has high hopes for the 'rich in detail' Citizens of London: The Americans Who Stood With Britain During Its Darkest, Finest Hour by Lynne Olson," USA Today wrote.

---

Obituary note: William J. Lederer, who co-wrote The Ugly American with Eugene Burdick, died December 5. He was 97. The New York Times reported that the family delayed reporting the news of his death "while arrangements were made for a military funeral, among other reasons."

---

Noting that in an industry where "publishers, retailers, prognosticators, device-makers and a world of geeks" are talking about e-books, Melville House Publishing observed that there is "only one character who never seems to get asked about the subject--authors."

To help rectify this, Melville House will host a discussion Wednesday, January 27 at 7 p.m. featuring Brooklyn writers Lev Grossman, John Wray, Myla Goldberg, Joshua Henkin, Heidi Julavits, Joe Meno, Sarah Manguso and Tao Lin. The event will launch "Publishing in the Age of Blah Blah Blah," a series of discussions on the literary e-future hosted by Melville House co-founder Dennis Loy Johnson.

---

Barnes & Noble was ranked the number one company in Forrester Research's 2010 Customer Experience Index. The CxPi, which ranked 133 U.S. companies across 14 industries using feedback from more than 4,600 consumers, is based on consumer evaluations during November 2009 in three categories: meeting needs, being easy to work with and enjoyability.

---

Takin' it to the streets... or pages. Two French authors--Camille Laurens and Marie Darrieussecq--have new books out that draw upon a recent plagiarism quarrel. The Guardian reported that the feud began "in 2007 after Laurens accused Darrieussecq of 'psychological plagiarism' in her novel Tom est mort (Tom Is Dead). Darrieussecq's novel was about the accidental death of a four-year-old, related by his mother 10 years later; Laurens said it contained echoes of her 1995 memoir Phillippe, about the death of her own son."

Now Darrieussecq has published a study of writers accused of plagiarism, and a new novel by Laurens, Romance nerveuse (Nervous Romance), is "about an author who is dropped by her editor after accusing a rival of plagiarism, and then finds it difficult to continue writing."

---
Sponsored by the city and regional literary groups, the inaugural Gaithersburg Book Festival will be held Saturday, May 15, in Gaithersburg, Md., on the grounds of City Hall. The schedule includes writing workshops, signings, a coffee house with poetry readings, musical entertainment, children's events and more. Organizers have lined up some authors, including Alice McDermott, but are looking for additional authors. For more information, go here.
---
Book trailer of the day: The Women by T.C. Boyle (Penguin), the novel about Frank Lloyd Wright and some of his loves, which has just come out in paperback. (Incidentally trailer director Jamieson Fry is the boyfriend of Boyle's daughter, Kerrie.)
---
Mystery author Matt Rees, who has lived in Jerusalem since 1966, chose his top-10 novels set in the Arab world for the Guardian, noting: "What we see of the Arab world comes from news reports of war and other madness. Literature would be a much more profound contact."

---

What will life be like in the year 2010? Daniel Sinker recalled one of his favorite childhood books, Geoffrey Hoyle's 2010: Living in the Future, which was published in 1972 and, as Boing Boing observed, imagines a far-off time when "we'll all do our work and schooling and library-book-reading on ingenious video screens that can connect to each other from anywhere around the globe.... Wait until you get to the part about 'a series of tubes.'"
---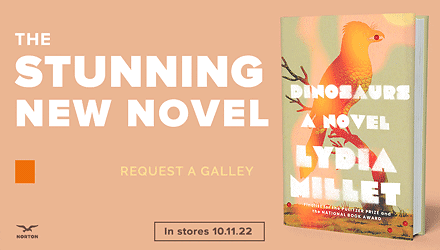 ---