Image of the Day: a proper cup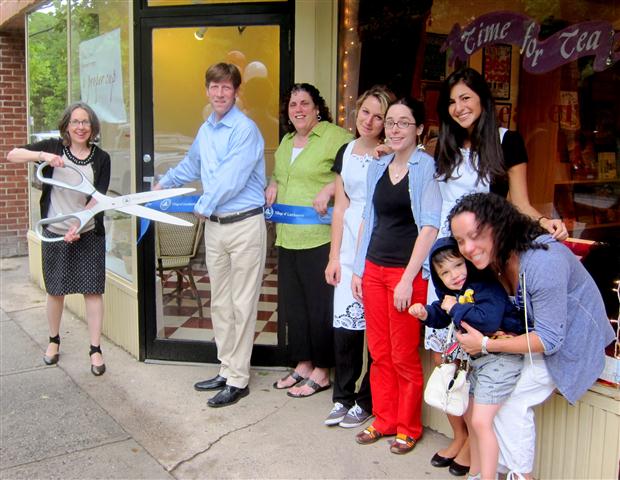 Last Saturday the Voracious Reader, Larchmont, N.Y., celebrated the grand opening of its new café, called "a proper cup." Owner Francine Lucidon and Mayor Josh Mandell cut the ribbon as readers/tea drinkers looked on. Besides free chocolate, free posters and craft making, events included signings by Rob Sharenow, author of Berlin Boxing Club (HarperCollins); New York Times columnist Alina Tugend, author of Better by Mistake (Riverhead Books); Charise Harper, author and illustrator of Cupcake (Hyperion); and Lena Roy, author of Edges (Farrar, Straus & Giroux). Roy, who is a granddaughter of Madeleine L'Engle, is also director of Writopia Westchester, which offers writing workshops for kids, some of which will be held at the Voracious Reader this summer.
Lucidon commented on why she opened the café: "In these rapidly changing times almost everyone seems to be selling books, from the local hardware store to the super market. The answer to these changes is not to sell more stuff, be it toys or T-shirts, but to look at the larger picture.
"We want to create a hub for book culture... a place where readers and writers mingle, a community of ideas and interests, and a place where families can catch their breath and regroup from the overscheduled, hyperpaced lives the times seem to demand... a place to slow down and smell the tea."
---

---