E-Books Redefine 'Now'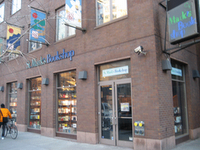 "E-book sellers have changed what people's perception of service is and what is legitimate to expect in a short period of time. If you say to them that you'll have to order it, a lot of people have a strange idea of what 'right away' means."

--David Russo, a manager at St. Mark's Bookshop, New York City, speaking with the
Villager
about the many customers who now buy books only if they're in stock and won't wait even 24 hours for a special order, a major contributor, along with high rent and the economy, to the store's "precarious position."
---

---