Now We Are Six!
Six years ago today, we published the first issue of Shelf Awareness, which, for a long time, was a joint production solely of John and Jenn. Now, half a dozen years and 1,495 issues later, we have a team of excellent, hardworking people helping us--and we've had our second baby, Shelf Awareness for Readers, which made its debut 10 days ago after a somewhat demanding pregnancy, although at least it was a pregnancy that allowed for drinking.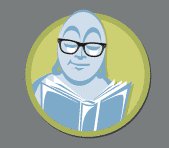 It's a beautiful baby, we think, and judging by your feedback so far, you agree. In Shelf Awareness for Readers, we draw on the expertise and knowledge we have developed covering the book trade and providing information about books, authors and trends and have expanded it for a greater audience. We're presenting the 25 best books of the week as well as a mix of news and fun items about books and authors. Editor Bethanne Patrick's "Further Reading" section is getting much-deserved attention.

We want to thank everyone at Shelf Awareness their help and hard work in creating and getting Shelf Awareness for Readers off the ground. Bethanne Patrick has quickly become part of the team and given the new e-newsletter her passionate, humorous and book-loving voice. Reviews editor Marilyn Dahl has set up a top-flight book review department, and children's editor Jennifer M. Brown is covering the best of new children's books. Managing editor Robin Lenz is managing more than ever--we don't know how she juggles the editorial matter that goes into Shelf Awareness Pro, Shelf Awareness for Readers and our Maximum Shelf and Dedicated Issues.

Newsletter and Web producer Amber Elbon worked day and night on the myriad technical matters necessary to create Shelf Awareness for Readers. Sales and marketing manager Melissa Solberg harnessed our advertisers, doused them with her marketing savvy and steered all of us on how the Shelf clicks and links really work. CFO Richard Jobes continues to make the numbers work in his wise way.

Robert Gray has kept on doing an amazing job writing on a range of subjects and seamlessly sending out, on average, every other issue of Shelf Awareness Pro, which has allowed some of us to do the extra work that Shelf Awareness for Readers takes.

We have a great staff and a new stable of excellent reviewers, and we thank them all for their yeoman-like efforts. We also thank you, dear readers, for being with us on this amazing journey and allowing us to be of service to everyone who likes a good read--and wants to help others find those good reads.

Please send any birthday greetings to info@shelf-awareness.com. It's our favorite day to hear from you--after April Fool's, of course.


---

---