Image of the Day: Remembering 9/11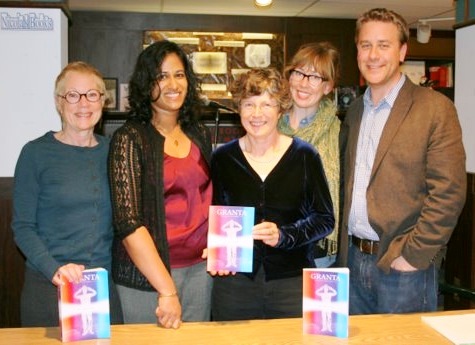 Last Wednesday, some 80 people came to Nicola's Books, Ann Arbor, Mich., for one of the events at bookstores around the country sponsored by
Granta
magazine, whose current issue focuses on 9/11. (For more on the tour,
click here
.) Authors Jeremiah Chamberlin, V.V. Ganeshananthan and poets Linda Gregerson and Megan Levad read from their own work as well as from sections of
Granta
. In the audience was author Donovan Hohn (
Moby Duck
), who also spoke. The conversation ranged from the potential exploitation of grief by the media, how some writers feel an urgency in their writing that they did not have before the attacks, how 9/11 might be remembered 50 years from now and in relation to other terrorist attacks. Afterward, many in the crowd split into smaller groups and continued to hold conversations. From l.: Gregerson, Ganeshananthan, Nicola's owner Nicola Rooney, Levad and Chamberlin.
Photo: Lynn Pellerito Riehl
---

---