Myracle Withdraws Book from NBA Consideration
Lauren Myracle's accidental inclusion among this year's nominees for the National Book Award in the Young People's Literature category (Shelf Awareness, October 13, 2011) ended yesterday when the author withdrew her novel Shine from consideration, "citing pressure from the National Book Foundation," the Huffington Post reported.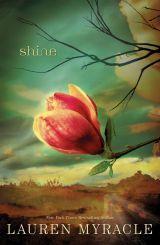 "I was over the moon last week after receiving the call telling me that Shine was a finalist for the award," Myracle said in a statement. "I was later informed that Shine had been included in error, but would remain on the list based on its merits. However, on Friday I was asked to withdraw by the National Book Foundation to preserve the integrity of the award and the judges' work, and I have agreed to do so."

She added that when she first learned her book about discrimination toward gay youth in schools had been shortlisted, she "was humbled and honored to be in the company of such amazing authors. I was also deeply moved that in recognizing Shine, the NBF was giving voice to the thousands of disenfranchised youth in America--particularly gay youth--who face massive discrimination and intimidation every day."

The date the National Book Award finalists were announced, October 12, was the anniversary of Matthew Shepard's death, which "seemed at the time to give a special resonance to the announcement as Shine deals with the issues of hate crimes and the bullying of gay teens," Susan Van Metre, senior v-p and publisher of Abrams Books for Young Readers, told Shelf Awareness. "So when it seemed Shine must come off the list, Lauren wanted some good to come of all of this and proposed a donation to the Matthew Shepard Foundation and the National Book Foundation graciously agreed."

Harold Augenbraum, executive director of the NBF, told the New York Times that the "whole thing is a regrettable incident and I wish it hadn't happened. I feel terrible personally, and I feel terrible for Lauren." Although he wouldn't discuss how the error occurred, calling that "an internal question," Augenbraum added: "Believe me, it won't happen again."

Myracle's supporters were not pacified. A blog post by Libba Bray, the wife of Myracle's agent Barry Goldblatt, harshly criticized the National Book Foundation's process and decision on this issue. On Twitter, many were using the hashtags #IsupportShine and #buyshine, urging people to buy Shine from an independent retailer.

---

---