Kobo Launches Vox Tablet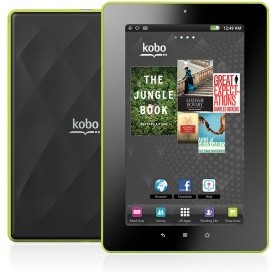 Kobo has thrown its digital hat into low-priced Android tablet ring with the introduction of Kobo Vox, which will retail for $199.99, matching the price of Amazon's Kindle Fire. Kobo started taking orders yesterday in the U.S. and Canada for the 7-inch screen Vox, which will ship October 28, two weeks ahead of the Kindle Fire's release date.

Kobo's CEO Michael Serbinis called the Vox--which will be offered in Hot Pink, Lime Green, Ice Blue or Jet Black--"the reader for your connected life... where books can come alive in color and conversation."

TechCrunch noted that "to its credit, it has social features that are very desirable among social readers. You know, book clubs and such. If you and your friends have the wherewithal to put together a book club, this is definitely the platform to do it on. The Kobo Pulse integration lets you detect and join discussion of passages and pages as you read them, and the Vox is the first e-reader to get Facebook Ticker integration. 'Devin turned a page in The Aeneid--12 seconds ago.' "

PaidContent.org added that "in an attempt to differentiate itself from the Kindle Fire, Kobo is playing up the Vox's openness. A lot. 'Kobo Vox--The Peoples' Reader! (Vox populi, voice of the people),' the site proclaims. 'Based on Kobo's founding principle... FREEDOM.' Users can 'read freely' (unlike Amazon, Kobo supports the open e-book format ePub, which can be read on any open e-reader) and access the open Android store--the Vox has 'unencumbered access to Android 2.3 so you are free to customize your experience to suit you best!' The Vox's Web browser is open and Android-based."

---

---