Midnight Party for Murakami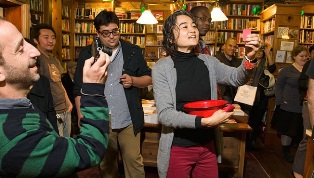 One of many stores that had a midnight release party for 1Q84, the new novel by Haruki Murakami (Knopf), Three Lives & Company in New York City closed the shop as usual last night at 8 p.m., then reopened at 10 p.m.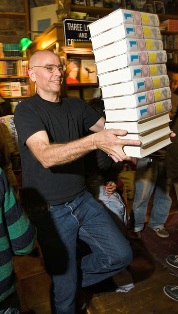 The party included Japanese beer and snacks and a raffle, conducted by Yuko Uchikawa (above), for the chance to buy signed copies of 1Q84.
By midnight, it was "a pretty full house in the little shop," said owner Toby Cox (right), who emerged from the basement with a stack of copies of the book to Janacek's Sinfonietta blasting through the store. Then booksellers Ryan Murphy and others distributed copies to customers (below) as Michinobu Yanagisawa, correspondent for the Yomiuri Shimbun, one of Japan's major newspapers, who was reporting on the "phenomenon" of the evening, looked on.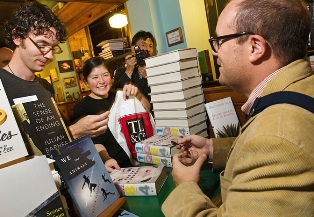 Photos: Christopher L. Smith
---

---