The Book as Object: 'A Piece of History'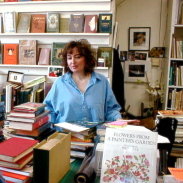 "You must hold a real book in your hand, smell the pages, examine the type face, the spacing between letters; must note the shape and size of the book, the weight of it. Only then can you experience the book's full import. And its magic.

"A book as an object is a piece of history....

"Of course, new books are not quite the same, but you can be a book's 'first' owner, the first to hold, read and study it. You can learn from its binding and paper and weight and lettering and smell. You can hold a new book in trust for its future owners. You can become part of its history.

"Give your e-reader a rest, grab a real, printed book: and feel the magic."
---

---