The Strand's Advice to B&N: Staff Picks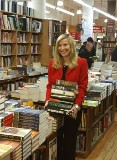 "I would say that they should go after recommendations. That's what we're doing--at the Strand, you walk in the store and we have such educated book lovers, almost everybody's majored in literature at the Strand. I want Barnes & Noble to stay afloat, because I want more people to read books, whether they're buying them from the Strand or from anywhere. That would make me happy."
--Nancy Bass Wyden, co-owner of the
Strand
Book Store in New York City, in an
interview on APR's Marketplace
program, responding to the question: "What would your advice be to Barnes & Noble to stay afloat?"
---

---