Tools of Change: E-books, Discoverability and Zombies
While the e-book market continues to grow, in 2011 that growth began to flatten out, becoming incremental rather than exponential. One contributing phenomenon was a slowdown over the last year in getting book buyers to purchase their first e-book; a related issue was that among the 76% of book buyers who still haven't bought their first e-book, 14% own an e-book device... and still haven't bought a book to read on it.
These were among the striking findings presented yesterday morning, during the final day of the O'Reilly Tools of Change conference, when Book Industry Study Group research chair (and R.R. Bowker v-p) Kelly Gallagher and BISG executive director Len Vlahos dug a little deeper into the third edition of the BISG/Bowker "Consumer Attitudes Toward E-Book Reading" survey that Gallagher shared at last month's Digital Book World. That survey identified in part the segments of "power buyers" who were buying the majority of books in the print and digital markets.
Once they broke "the e-book market" down into specific sectors, though, fiction was an area that did show significant growth throughout the year, which led to the question: How much room is there left for fiction sales to grow further? And can the effect be duplicated in other segments of the market?
Although their research showed that an individual consumer's e-book purchases initially occur at the expense of print book sales, a sort of leveling effect takes place over time--the longer one continues to buy e-books, the more likely it is that the number of e-books one purchases will dip slightly, and the number of print books, while initially dropping, will experience a slight uptick, until they begin to converge. (That trend toward convergence echoed observations made Tuesday during Jack McKeown's presentation of Verso Digital's research.)
"Discoverability" was another key theme of the day; one of the most talked-about sessions was a presentation by Goodreads CEO Otis Chandler on how that site's users discover the books they choose to read. As one might expect, searches played a major role in discovery, and Chandler described how a recommendation engine launched late last year fed users who rated the books that came up in their searches suggestions for additional reading, leading to a 60% increase in "shelving" titles for future consideration. Lists compiled by readers, bundling like titles together, was also another popular way to find new books. On the other hand, 96% of Goodreads users said they read books by authors they already knew, underscoring the need for publishers to market to authors' fan bases.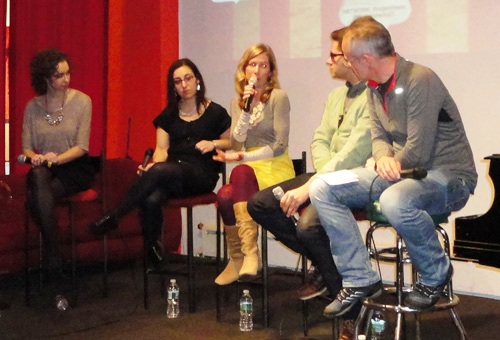 Panel lineup: Emily Lyman, Crown Publishing; Miriam Parker, Mulholland Books; Guinevere de la Mare, Chronicle Books; Ryan Chapman, FSG; Henry Copeland, Blogads.
As Tools of Change was drawing to a close, representatives from the online marketing departments of several publishers gathered at the Gershwin Hotel for a Social Media Week panel on "building community around books" moderated by Blogads CEO Henry Copeland. Though all the speakers agreed that it was necessary to keep an eye on all the major social networks, they recognized that it was impossible to be everywhere at once and advocated allocating resources where they do the most good. "I'm not too concerned with having 100,000 Twitter followers," said Farrar, Straus & Giroux's Ryan Chapman. Instead, "I'm concerned with having 10,000 people who will open every literary fiction e-mail I send them."
The panelists also opened up about what hadn't worked for them; Chapman confessed that a YouTube video created by author/musician Mike Edison showing off his "bong guitar" had failed to spur sales of the memoir I Have Fun Everywhere I Go commensurate with the 420,000-plus views it received. Similarly, Emily Lyman of Crown Publishing said that David Rosen's novel I Just Want My Pants Back (now the basis of an MTV sitcom) hadn't gained any traction online, because it simply wasn't a good fit for the female-heavy demographics of many social networks. Well, asked an audience member, how do you attract male readers online? "I can sum that up in one word," Lyman quipped: "Zombies." --Ron Hogan
---

---