Vonnegut: 'Books Are Sacred to Free Men'
"Certain members of your community have suggested that my work is evil. This is extraordinarily insulting to me. The news from Drake indicates to me that books and writers are very unreal to you people. I am writing this letter to let you know how real I am....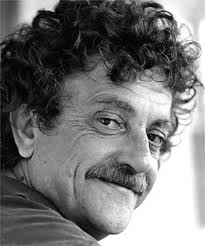 "I read in the newspaper that your community is mystified by the outcry from all over the country about what you have done. Well, you have discovered that Drake is a part of American civilization, and your fellow Americans can't stand it that you have behaved in such an uncivilized way. Perhaps you will learn from this that books are sacred to free men for very good reasons, and that wars have been fought against nations which hate books and burn them. If you are an American, you must allow all ideas to circulate freely in your community, not merely your own."
--
Kurt Vonnegut, in a 1973 letter
to Charles McCarthy, head of the Drake High School school board in North Dakota. McCarthy had demanded that 32 copies of
Slaughterhouse-Five
be burned in the school's furnace. "Other books soon met with the same fate," Letters of Note observed.
---

---