Google Setback: Judge Rules Authors Can Pursue Class Action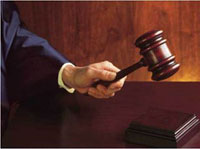 In a decision that could be a setback for Google, Judge Denny Chin ruled yesterday that groups representing authors can go forward with a class action. PaidContent reported that Chin's ruling "means the stage is now set for a trial on whether Google's decision to scan millions of books amounted to fair use under copyright law."

Last month, Chin heard arguments regarding motions by Google to deny the authors the right to proceed as a class and to dismiss the organization's case.

"This is a key ruling for all U.S. authors whose literary works have been appropriated by Google," said Paul Aiken, executive director of the Authors Guild.

A spokesman for Google observed: "As we've said all along, we are confident that Google Books is fully compliant with copyright law. Today's decision doesn't determine the underlying merits of the case, nor does it resolve the lawsuit."

In his ruling, Chin said the Authors Guild "has played an integral part in every stage of this litigation since its inception almost seven years ago.... Furthermore, given the sweeping and undiscriminating nature of Google's unauthorized copying, it would be unjust to require that each affected association member litigate his claim individually."

PaidContent also noted that Google's contention a class action was inappropriate "since a survey of authors showed that 57% 'approved' of appearing in Google's search results" was rejected by Chin, who ruled this does not disqualify other authors from suing together, adding that, "it is possible that some authors who 'approve' of Google's actions might still choose to join the class action."

---

---