Legal Setback for Authors: Google Can Appeal Class Certification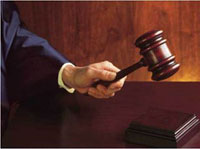 Yesterday, the U.S. Court of Appeals for the Second Circuit ruled that Google can appeal a May ruling that groups representing authors could go forward with a class action lawsuit. PaidContent reported the significance of the order "is that the current proceedings, which have been heating up, will likely be suspended while the appeals court decides whether the class action should have been allowed to go ahead in the first place."

A panel of two judges will hear the appeal. Judge Denny Chin has recused himself on the grounds that he is still involved in the original case. Since the case "was destined to end up before it eventually, the Second Circuit likely decided to hear the class certification appeal in order to telegraph its ultimate intentions. Its ruling will thus either end the case or provide Chin with a possible playbook about how to handle it going forward," paidContent wrote.

---

---