Ferlinghetti on City Lights: 'Whole Thing Took About Five Minutes'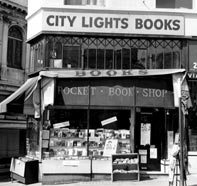 "I was coming up from my painting studio, and I drove up Columbus Avenue. It was a route I wouldn't normally take, and I saw a guy [Peter Martin] putting up a sign where City Lights is now. I said, 'What are you doing?' and he said, 'I'm starting a paperback bookstore, but I don't have any money. I've got $500.' I said, 'I have $500.' The whole thing took about five minutes. We shook hands, and the store opened in June 1953 as City Lights Pocket Bookshop."
--
Lawrence Ferlinghetti
in a
San Francisco Chronicle
profile. His latest book,
Time of Useful Consciousness
(New Directions), will be released next month. Ferlinghetti called the new work "a statement about where culture is. I'm trying to be an optimist."
---

---