Indigo's Second Quarter: Sales Slip, Net Loss Improves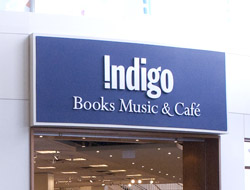 In the second quarter ended September 29, net revenue at Indigo Books & Music fell 5.95% to C$185.6 million (about US$189.5 million) and the net loss was $4 million (about US$4.1 million), a major improvement over the net loss of C$40.4 million (about US$41.2 million) in the same period a year earlier.

The company attributed the revenue decline primarily to "a delay in the planned launch of the new Kobo devices" as well as the closing of seven Coles stores. Book sales were down only modestly "owing to strong titles as well as effective efforts to drive book sales both in store and online."

The company attributed the improvement in net results to "improvements in margin and productivity" as well as the writedown a year ago of $25.4 million of goodwill allocated to Indigo.

Sales at Indigo and Chapters superstores open at least a year fell 6.5% while sales at Coles and IndigoSpirit small-format stores open at least a year slipped 2.2%.

Indigo CEO Heather Reisman commented: "We are focused on driving significant margin and productivity improvements and are pleased that our on-going efforts are reflected in our results. We will continue to broaden our assortment in our key growth categories to drive higher top line sales to offset the decline in physical books. We're also pleased to have the newest Kobo eReaders now in store as top gift picks for the upcoming holiday season."


---

---