Sandy Update: BookTowne Reopens; Stores' Relief Efforts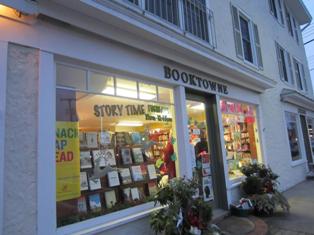 BookTowne, Manasquan, N.J., which had been closed since Hurricane Sandy struck, reopened on Saturday after power was restored to the downtown area of the Jersey Shore community. Fittingly, the store will now be able to host an event this Thursday evening for My Bookstore, edited by Ronald Rice (Black Dog & Leventhal), that will feature local author Audrey Vernick. Owner Rita Maggio said about the reopening: "It's great to see so many people around welcoming us back."
---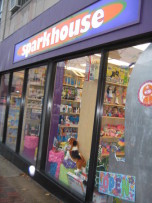 Sparkhouse Kids, the toy and book store in South Orange, N.J., an area that had widespread power outages, and Rebecca Gelman, a local architect who has been providing aid relief to the Shore victims, have created the "Smiles for the Shore" Toy Drive to ease the pain of children on the Jersey Shore who "have lost much more than heat and power."
Through this Sunday, Sparkhouse is accepting any new, unwrapped toys, and for every toy that is purchased at Sparkhouse for donation, the store will donate a toy of same value. All the donated toys will be delivered to Point Pleasant, N.J., for distribution next week.
---
Even though the Connecticut shoreline was pummeled by Hurricane Sandy and it took days for power to be restored in its area, R.J. Julia Booksellers, Madison, Conn., has begun an effort to help one of the areas in "our sister shoreline communities" that was damaged even more: with the help of First Niagara Bank, the store is hosting an emergency supply drive for the Unitarian Church of Staten Island.
The store is requesting donations of a variety of items needed by the church--from contractor garbage bags and dust filter masks to diapers and personal toiletries--that will be collected at the store today and loaded onto a truck provided by First Niagara.
Tomorrow owner Roxanne Coady's husband, Kevin, and a First Niagara volunteer will drive the truck to Staten Island.
---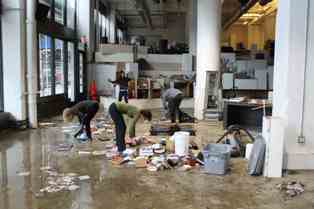 And in Brooklyn, N.Y., besides donating 10% of sales to storm relief, Greenlight Bookstore lent electronic equipment, including a credit card swiper, a bar code scanner and a receipt printer, to powerHouse Books, which was severely damaged when more than two feet of water filled the store during the storm, the Brooklyn Paper reported.
PowerHouse owner Daniel Power said the equipment "saved us a lot of time and made it so we could continue to conduct inventory."
"If we watched our business, that we built from scratch, get beat up like that, I would hope someone would do the same for us," Greenlight co-owner Rebecca Fitting said. "Bookstores work best when they're friends, not competitors."
---

---