Bookstore to Open in Vallejo Early Next Year
Early next year, Rar Farmer and Ben Rogers plan to open Koham Press, a new and used bookstore and publisher, in downtown Vallejo, Calif., the Vallejo Times Herald reported. The couple, who are married, already rent two floors at 628 Marin St.; they live on the second floor and will remake the first floor into the store.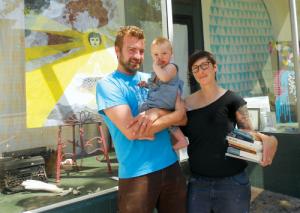 Ben Rogers, Rar Farmer and their daughter, Opal, in front of the storefront that will house Koham Press. (photo: Sarah Rohrs/Times-Herald)
"The environment that I'm going for is an 'at home library' with floor-to-ceiling book shelves and nice, comfy chairs for relaxing," Farmer told the paper. She is a former manager of Half Price Books in Berkeley, with seven years experience overall managing and working in bookstores.

Farmer is also an "artist, writer, pipe welder and long-time book lover," the paper said, and Rogers does bookbinding and computer graphics, and "recently printed a limited edition of Farmers' book As the Scene Unfolds with her illustrations."

Key sections at Koham Press will include literature, philosophy, poetry and art. The couple also want to offer children's story times, musician open mic nights, reading classes for adults, a writer's workshop for youth, a vinyl night for those who love albums and "Read and Wine."
---

---