France Honors Roth, Reveals Plans for NYC Bookshop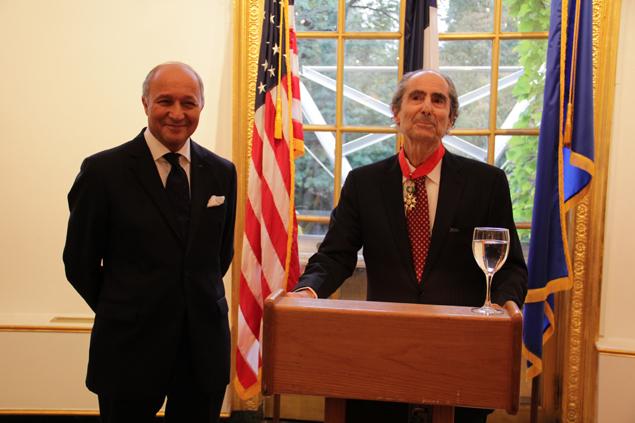 Photo: Danny Garcia/French Embassy
On Friday, French foreign minister Laurent Fabius presented Philip Roth with the insignia of Commander of the Legion of Honor at a ceremony that culminated with the groundbreaking for a bookshop in New York City, Page Views reported. "Writers and books need bookstores," said Fabius.

François Delattre, French ambassador to the U.S., said the bookshop, located in the embassy, will be devoted to works in French and in translation, offering more than 14,000 titles. The space will also host author conversations, panel discussions and exhibits.

The embassy has enlisted French designer Jacques Garcia, "who is renowned for designing interiors that create a link between traditional and modern architecture, such as his celebrated restoration of the Chateau du Champ de Bataille in Normandy," to create a "suitably elegant new interior" in the mansion that was designed by Beaux-Arts architect Stanford White at the beginning of the 20th century.

In presenting Roth with his insignia, Fabius said, "You have enlightened French readers with your art of storytelling." Page Views noted that after Roth "humbly accepted the red-ribboned medal before a standing ovation, he spoke of his early affection toward the French." He also said "this highest of honors comes as a wonderful surprise," and concluded his speech, "Je suis absolutement ravi."
---

---