High Marks for First Children's Institute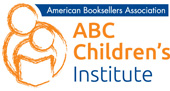 Nearly 130 booksellers flocked to beautiful old San Antonio, Tex., for a day and a half of presentations, roundtables and workshops for the first, standalone ABC Children's Institute.

At the opening plenary, Brad Meltzer, author of I Am Amelia Earhart and I Am Abraham Lincoln (Dial/Penguin Young Readers Group), thanked booksellers for being such positive influences on their communities and encouraged the audience to continue to think of themselves as providing a "legacy" through their stores, events and day-by-day interactions.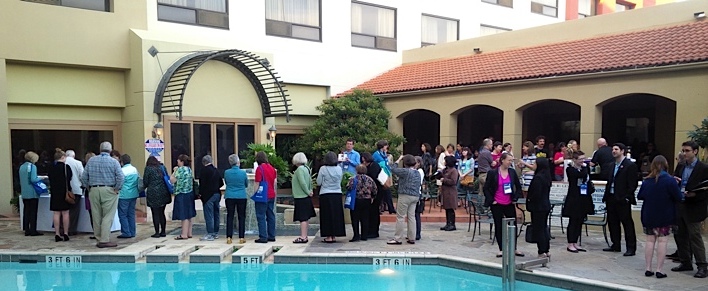 Booksellers enjoyed a poolside reception.
Breakout sessions covered everything from managing successful book fairs to selling picture books in a time where age compression is affecting reading habits as well as child development and literacy, expanding author events, engaging customers through social media and how to host a successful educator night.

Four roundtables covered building relationships with schools, complementing books with other inventory, embracing diversity in books and the community, promoting summer reading and confronting censorship.

After a featured talk by Miss Anastasia, a professional storyteller and bookseller at San Antonio's own Twig Book Shop, about "The Craft of Storytime," the closing author reception featured more than 30 children's authors, including presenters Chip Kidd, Austin Kleon and Tim Federle.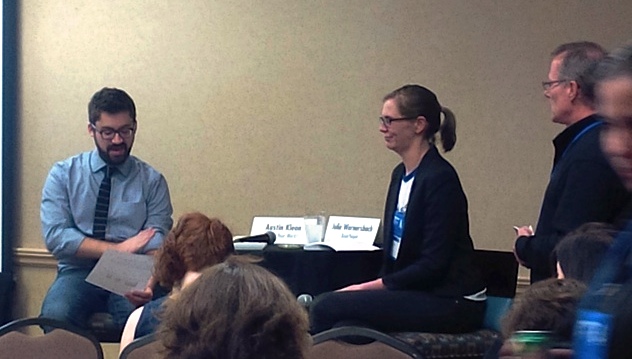 Author Austin Kleon and Julie Wernersbach of BookPeople, Austin, Tex., discuss "Engaging Your Audience Through Social Media."
At the Rep Picks Lunch, Joy Dallanegra-Sanger, ABA's senior program officer, announced the return of the "Give Me Summer! Give Me Something to Read!" program--the national summer reading program for kids--and the middle grade and YA picks for the "Indies Introduce New Voices" program, in which a panel of 10 children's booksellers selects titles for the upcoming season.

Attendees seemed pleased by the inaugural Children's Institute. Robert Sindelar, ABA board member and managing partner at Third Place Books in Lake Forest Park and Ravenna, Wash., said, "Getting ready for [Children's Institute], there were serious debates [between staff members] about, should I go to this session or should I go to this session.... I felt like, coming in, if they had this reaction, the programming is headed in the right direction."

Chris Crawley, new owner of That Bookstore in Blytheville, Ark., said, "I learned a lot about social media applications at the bookstore, about the mechanics of operating and running a bookstore from a variety of perspectives. But I think the thing I really got the most out of was how to do a kid's event. That was really exciting to me."

And Nellie Greene, marketing and publicity manager at Flyleaf Books in Chapel Hill, N.C., said, "I definitely, really enjoyed myself and learned a lot. It's inspired me to read more children's literature... the books are so fantastic." --Christopher Priest
---
---