Politics and Prose to Operate Busboys and Poets Book Sales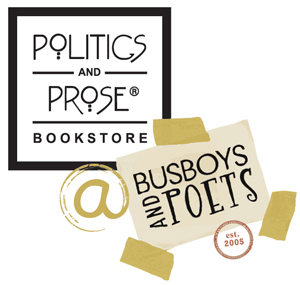 Politics and Prose Bookstore, Washington, D.C., is taking over the book operations at five current and future Busboys and Poets restaurants in the metro area. They include the locations at 5th and K streets in downtown Washington, in Hyattsville, Md., and in Shirlington, Va.--Politics and Prose will begin book operations at these stores next year. Politics and Prose will start the book operations at the two Busboys and Poets that are opening soon in the District neighborhoods of Brookland (next month) and Takoma (in January). The arrangement doesn't include the original Busboys and Poets, at 14th and V streets in the capital, which has a bookstore owned and operated by Teaching for Change.
Bradley Graham, who owns P&P with Lissa Muscatine, commented: "We're excited to join forces with Andy Shallal and his great Busboys and Poets organization, and to bring P&P's experience in bookselling and high-caliber events to other neighborhoods in the Washington area. Andy's restaurants have been devoted to more than just selling food. They're places for dialogue, for bringing people together, for celebrating the cultural diversity of our community. We see great synergy in this new initiative and believe that working with Busboys will enable P&P to make books and authors more available throughout the metro region."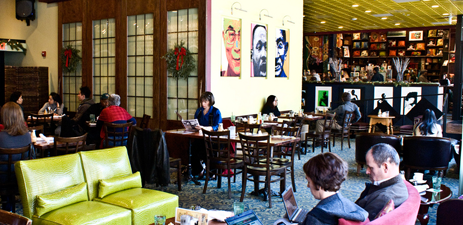 Busboys and Poets, Shirlington, Va.
Andy Shallal said, "Politics and Prose epitomizes the greatness and reach of independent bookstores, and we are thrilled that they will partner with us to continue in our tradition of offering multicultural books that represent the diversity of Washington, D.C."
The book offerings will include book signings, author interviews, literary workshops, children's programming and other events. Busboys and Poets restaurants have large private rooms for special programs and are equipped with stages and state-of-the-art audio and visual equipment, including live streaming and webcasting.

The Washington Post described the arrangement this way: "The mini-stores, staffed by P&P employees, will be marked with a sign sporting the logo: 'Politics and Prose @ Busboys and Poets.' Customers will be able to get quick deliveries from the main store on Connecticut Avenue, place special orders and enjoy all their usual P&P membership discounts."

The paper said the arrangement evolved after Shallal met Graham and Muscatine at a dinner party recently.
---

---