Craig Popelars: 'Bookmarking Indie Bookstore Day'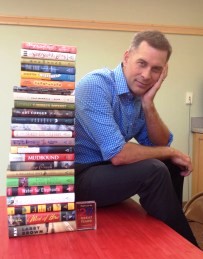 "A few nights ago, I checked on my daughter Maddie while she slept. Beside her in bed was John Green's Paper Towns. The bookmark from Flyleaf Books in Chapel Hill was sticking out and the sight of it brought a wave of nostalgia over me. The adventure, the discovery, the possibilities, that sense of place and belonging that came with entering The Little Professor in Troy, Ohio so many years ago. Bookmarks indicate where we are, where we've been and what remains.

"Knowing that my childhood bookstore, my daughter's childhood bookstore and hundreds of other amazing independent bookstores continue to thrive brings an overwhelming sense of hope, gratitude, and the notion that just maybe, all is right with the world."
---

---