MacArthur 'Genius' Award Authors
The 24 recipients of this year's MacArthur Foundation "genius" grants--$625,000 paid out over five years to people who "show exceptional creativity in their work and the prospect for still more in the future"--include these authors: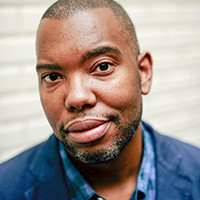 Ta-Nehisi Coates
Ta-Nehisi Coates, journalist and author of the memoir The Beautiful Struggle as well as Between the World and Me.
Ben Lerner, novelist, poet and critic, whose novels are Leaving the Atocha Station and 10:04 and poetry collections are The Lichtenberg Figures, Angle of Yaw and Mean Free Path.
Lin-Manuel Miranda, playwright, composer and performer who created the hit play Hamilton, based on Ron Chernow's Alexander Hamilton.
Marina Rustow, a historian and author of Heresy and the Politics of Community: The Jews of the Fatimid Caliphate. She is also co-editor of Jewish Studies at the Crossroads of Anthropology and History: Authority, Diaspora, Tradition.
Ellen Bryant Voigt, a poet whose works include Claiming Kin, Forces of Plenty, Kyrie and Headwaters. She has also written two books on the writer's craft: The Flexible Lyric and The Art of Syntax: Rhythm of Thought, Rhythm of Song.
---

---