Amazon Opening Bookstore in Seattle?
Is Amazon opening a bookstore in Seattle's University Village?
For several years, U-Village, which is home to a huge Apple store and a Microsoft store, has been the rumored location of an Amazon retail operation, particularly since Barnes & Noble closed its 46,000-square-foot store in the upscale shopping mall in the University District at the end of 2011. Some of the strongest speculation came in 2012, after B&N, Books-A-Million and Indigo said they would not carry Amazon Publishing titles. At the time, Good E-Reader called a possible U-Village Amazon store "a test to gauge the market and see if a chain of stores would be profitable. They intend on going with the small boutique route with the main emphasis on books from their growing line of Amazon Exclusives and selling their e-readers and tablets."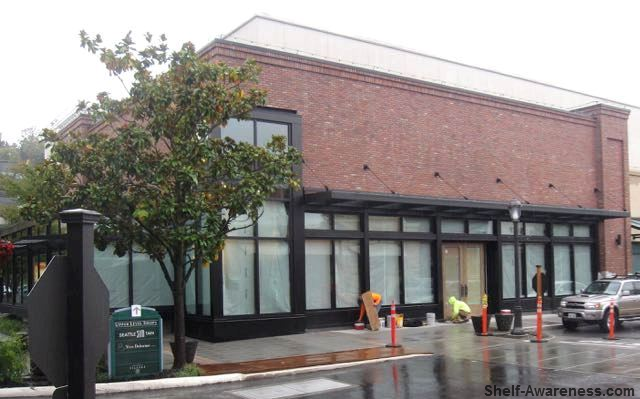 Amazon's retail storefront?
Now Shelf Awareness has learned that work is underway on a newly vacant spot in U-Village formerly occupied by Blue C Sushi, a storefront that, according to city work permits, will be occupied by a retailer named "Ann Bookstore." A source who works at U-Village said that the management has been unusually secretive about the new tenant and that it's rumored the site will house a bookstore. A management office employee who was asked when the Amazon bookstore would open said only that she didn't know the date. Also, the most likely local indie candidates to open such a store--University Book Store, Elliott Bay Book Company and Third Place Books--have all said they are not opening a store in U-Village.
In addition, Shelf Awareness has learned that the online retailer has approached booksellers at independent stores in the Seattle area and conducted interviews but didn't tell much about the jobs it was seeking to fill. (All potential hires signed very restrictive nondisclosure agreements.) Amazon has recruited at least one relatively new bookseller for the "new initiative." The job pays $18 an hour, well above the typical pay scale for an entry-level bookseller. Amazon has also interviewed more experienced booksellers.
Despite several years of rumors about opening bricks-and-mortar stores, until now Amazon has done little in this area. One minor exception involved academia: the online bookseller for the University of Massachusetts at Amherst, the University of California Davis and Purdue University, Amazon this year opened a "campus facility" at UMass where students can pick up textbooks ordered online.
So the U-Village store is a major departure for Amazon: its first real bricks-and-mortar venture, in a shopping center with other high-tech retailers, featuring its own books and related products. It's also a way to ensure that Amazon Publishing titles finally get onto at least one bookstore's shelves.
---

---