Betsy Burton: 'Survival Has Turned into Revival'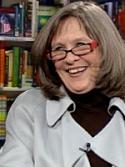 "Education and the local movement. When we opened the King's English back in 1977, bookselling was easy: Local stores each had their own niche, the only chains were B. Dalton and Walden, and making payroll just wasn't that hard. Then the big chains came to town and those two things--the education, which made us competitive against stores that carried everything, discounted everything, and got preferential treatment from the government, the public and publishers alike (which, of course, made it possible to discount everything), along with the local message, which educated the public and government (and, finally, publishers as the movement took hold) about the importance of local business to our economy and our community--became the twin strategies of our survival. I'm happy to say they've worked--which is why our survival has turned into our revival. Our Indie Renaissance."
--Betsy Burton, co-founder of the
King's English Bookshop
in Salt Lake City and ABA president, answering
Bookselling This Week
's question: "What do you think are some of the most important changes in bookselling since you opened your store?"
---

---