IBD 2016: Booksellers Getting Ready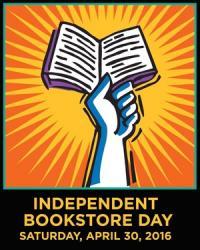 There's just over two weeks to go until Independent Bookstore Day 2016, and stores around the country are getting ready. This week, Shelf Awareness takes another look at the plans and ongoing preparations.
In Washington, D.C., and Ankeny, Iowa, two new indie bookstores are having their grand opening celebrations on IBD. On Capitol Hill in Washington, East City Bookshop will host events from 10 a.m. until 8 pm. The festivities will include author readings for children, teens and adult, with prizes given out at the start of every reading; a literary scavenger hunt; and food, drinks and musical acts in the evening. In Ankeny, Plot Twist Bookstore will feature visits from local authors and a Curious George story time, along with door prizes and refreshments.
Women & Children First in Chicago, Ill., will celebrate Independent Bookstore Day with coffee and doughnuts in the morning, followed by a live performance from musician, writer and Northwestern University lecturer Freda Love Smith (Red Velvet Underground: A Rock Memoir, with Recipes). And later in the afternoon, authors Ana Castillo (Black Dove: Mamá, Mi'jo, and Me) and Cyn Vargas (On the Way) will discuss Castillo's most recent work.
On April 30, Pegasus Books in downtown Berkeley, Calif., will host science writer Mary Roach (Stiff: The Curious Lives of Human Cadavers, Gulp: Adventures on the Alimentary Canal) for an hour of "Ask Mary Anything." At the store's Pegasus on Salon location, there will be a special party for the store's "dogstomers" (dog customers), and Pegasus in Oakland will have live music by the Dusty Case Duo. Throughout the day, there will be in-store specials, prize drawings, treats and brand new "Pegasus swag."
Bookshop Santa Cruz in Santa Cruz, Calif., is celebrating IBD with refreshments, activities and prizes. In the morning, the store will offer coffee courtesy of a local coffee roaster and a Shakespeare costume design workshop from 10 until noon, followed by a Shakespearean insult workshop from noon until 1. The afternoon will feature a Walt Whitman Flash Mob in honor of National Poetry Month and a pop-up museum led by Subjects to Change, a teen collaborative of the Museum of Art & History. And, finally, the evening will include a Coloring Book Happy Hour and the bookshop's third annual literary trivia night with refreshments by Santa Cruz Mountain Brewing.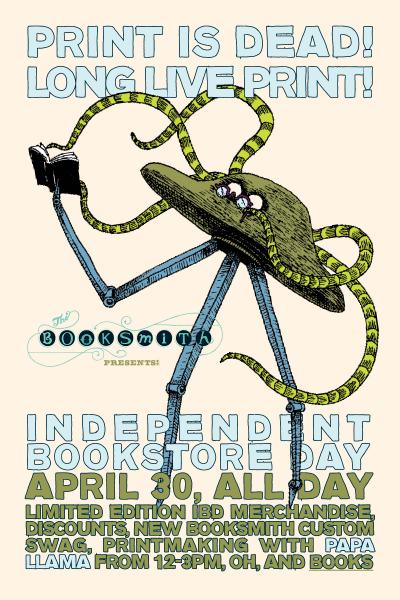 In San Francisco, Calif., the Booksmith is throwing a "Print Is Dead! Long Live Print!" celebration in honor of IBD. The store will partner with a local letterpress to host printmaking demonstrations and a "Letter Writing Saturday" session. The day will also feature an assortment of custom Booksmith swag (including literary themed condoms) and sign-ups for the store's reward program offering discounts throughout the year.
At Left Bank Books in St. Louis, Mo., the day begins with a special storytime session at 10:30. At 11, there will be a tea time for kids and adults, during which Left Bank will unveil its new signature summer tea blend. In the afternoon, YA author Antony John (Five Flavors of Dumb) will be on hand to "critique your British accent," and in the evening there will be a ticketed Coloring Book Happy Hour. And throughout the day there will be an interactive magnetic poetry display, a photobooth, a raffle benefiting the Left Bank Books Foundation, and special offers from local eateries.
The Book House, another St. Louis indie, will also join the fun on IBD. There will be door prize giveaways and raffles, along with a used book sale throughout the day and a Curious George story time. Customers will also be able to enjoy an open mic poetry session, a coloring book "Meet 'n' Greet," rare-book appraisals and live music and local beer.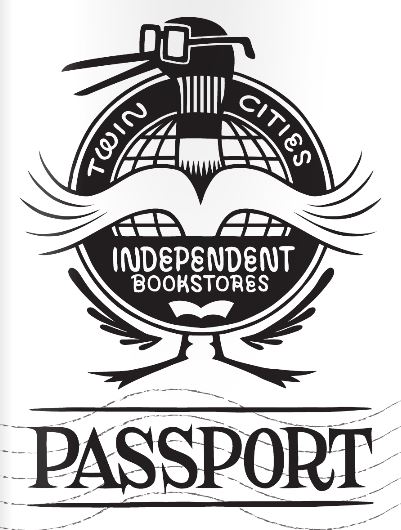 In the Twin Cities, 10 bookstores are sharing a Bookstore Day Passport created by Minnesota illustrator and cartoonist Kevin Cannon (who last year created a poster featuring drawings of some 30 Minnesota bookstores).
Customers who have the passport stamped at all 10 stores on April 30 receive a $10 gift card from each store, for $100 in total. They then take a picture of the completed stamp page and send it to the Midwest Independent Booksellers Association via twitter (@MidwestBooks). MIBA will gather contact information and send winners their gifts.
Oblong Books and Music will have celebrations at both its Rhinebeck, N.Y., and Millerton, N.Y., stores on April 30. There will be free snacks, chances to win discounts and books, and a host of activities. Customers will be able to pin their favorite books to Oblong's wall of books, join in an Alice and Wonderland temporary tattoo chain, and go on a 'Blind Date' with a book for charity.
And last but not least, a group of more than 20 New Jersey independent bookstores have collaborated to promote each other and IBD with a New Jersey Independent Bookstore Map bookmark. Spearheaded by Watchung Booksellers in Montclair, N.J., the bookmark displays the locations of all participating bookstores on a map of New Jersey along with those stores' addresses and contact information. The physical bookmarks will make their debut on April 30, and a digital version of the map will also be available. The participating bookstores will encourage customers to take a selfie with the bookmark at a New Jersey indie and share the picture with the hashtag #NJIndies. --Alex Mutter
---

---