Strong Words--and Actions--for and Against Yiannopoulos Memoir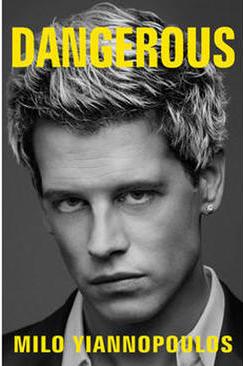 The controversy over Threshold Editions' decision to publish a book by Breitbart senior editor and "alt-right" hero Milo Yiannopoulos has continued into the new year, particularly online. Some in the book world continue to criticize Threshold parent company Simon & Schuster in harsh ways, while others are defending its right to publish political books from a broad variety of points of view.
Yiannopoulos--who was banned from Twitter for harassing actress Leslie Jones--is receiving a $250,000 advance for Dangerous, which Threshold will publish in March; the memoir has generated significant preorders online. Many critics say that publication of the book by a mainstream publisher makes acceptable racist, neo-Nazi views.
Yesterday, the National Coalition Against Censorship issued a statement criticizing efforts to boycott S&S or force the company to drop the book. "This kind of response will have a chilling effect on authors and publishers," the statement said. "Publishers and writers need the freedom to express ideas even if they are controversial and offensive to some." The statement was also signed by the American Booksellers Association, the Association of American Publishers, the Authors Guild, the Comic Book Legal Defense Fund, the Freedom to Read Foundation, the Index on Censorship and the National Council of Teachers of English.
NCAC maintains that censorship is not an effective way to address hate speech. "The suppression of noxious ideas does not defeat them; only vigorous disagreement can counter toxic speech effectively," the statement said. "Shutting down the conversation may temporarily silence disfavored views, but does nothing to prevent them from spreading and resurfacing in other ways."
In a similar vein, English PEN said yesterday that "Milo Yiannopoulos' right to freedom of expression must be respected," according to the Bookseller.
Robert Sharp, head of campaigns and communications for English PEN, said, "Offensive ideas should be debunked and discredited, not censored.... The right of Mr. Yiannopoulos to write and to offend is integral to the principle of freedom of expression. Likewise, Simon & Schuster U.S. has the right to make an editorial judgment over whether to publish his book. Demanding that the publisher cancels the book deal amounts to a call for censorship, and should be resisted."
He added, "PEN campaigns for the victims of censorship in many countries around the world. Often, the people we seek to support have been branded as 'dangerous' or corrupting to society. If we seek to silence people like Milo Yiannopolous on the same grounds, then we set a terrible example to more authoritarian governments."
Sharp drew a distinction between criticism of the deal and calls for the deal to be reversed, saying, "Many have simply expressed a negative opinion about Mr. Yiannopolous' writing and politics. Outrage is not in itself a form of censorship--it is also a manifestation of free speech."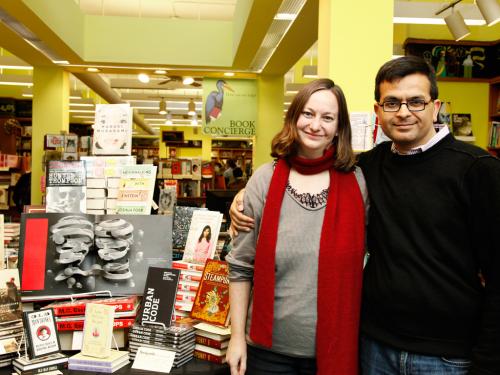 Christin Evans and Praveen Madan at the Booksmith
Some outraged booksellers in the U.S. are taking action. In the strongest move against the Milo Yiannopolous book and S&S by a bookseller we've seen, the Booksmith, San Francisco, Calif., has decided not to stock or special order any titles published by Threshold Editions and "will reduce our orders with Threshold's parent company Simon & Schuster by 50% in order to communicate pressure to the corporation as a whole. While we respect Simon's decision to publish any book, we reserve the right to allocate our discretionary inventory dollars with publishers who act with ethical & moral standards consistent with our own." And "for the foreseeable future," the Booksmith will donate 40% of the sales of S&S books ("which is to say all of our profit") to the ACLU.
The store explained: "While we at Booksmith value free speech and democratizing information at our bookstores, we also believe that this author crosses a line by promoting hate speech & bullying (here is a good article detailing why his isn't just another conservative voice) and feel compelled to take action. We want to send a message; we also believe that our family of S&S writers should not be harmed by a boycott. So, over the past week, we've discussed with our staff and community the pros and cons of various responses at length, and we're proud to announce our decision."
Last week, Lambda Literary issued a statement that said in part, "We at Lambda Literary stand with the diverse writers and readers who believe that for a publisher to give this writer money and a megaphone is an affront to the values we all share. Furthermore, if Yiannopolous's forthcoming book, Dangerous, contains the same hateful rhetoric that got him banned from Twitter and earned him widespread censure--including from the LGBTQ community he claims to be part of--then Lambda Literary will have to condemn the work as hostile to our mission of advocacy for LGBTQ literature and affirmation of LGBTQ lives." The organization called on "readers and reviewers to ignore his book" and recommended 14 books published last year or forthcoming that "illuminate the LGBTQ experience with intelligence and compassion."
In an article today entitled "Publishers Encounter Political Storms in Turn to the Right," the New York Times wrote that the controversy over Yiannopolous's book "highlights the minefield that publishers face as they try to court an emerging market of young conservatives who identify with extreme right-wing stances on issues like immigration and gender equality--positions embodied with devious, irreverent glee by Mr. Yiannopoulos--that they feel are undermining the nation. Many liberals and moderates say, however, those positions amount to outright racism and misogyny.
"And the issue has cast an uncomfortable spotlight on a lucrative but often overlooked niche within the largely left-leaning publishing world. Every major publishing house has a conservative imprint--Penguin Random House has two, Sentinel and Crown Forum--and maintains a stable of right-wing authors who may not attend literary festivals or mingle at the National Book Awards but command a sizable audience in red state America."
Ironically, the election of Donald Trump as president and continued Republican control of the Senate and House will likely change the market. "Without conservatives filling the role as the voice of opposition, the urgency and potency of right-wing books will almost certainly be diminished," the Times wrote.
Adam Bellow, the editorial director of a new political imprint at St. Martin's Press, commented: "Conservative publishing is always a better business when the other side is in power."
---

---