#HarperCollinsLovesIndies Goes Facebook Live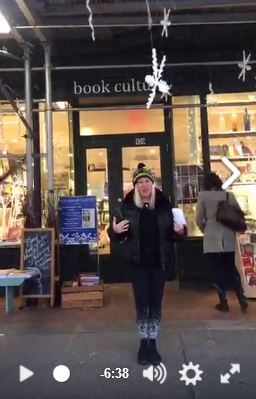 Book Studio 16 at Book Culture, New York City
Expanding on its daily author programing on its Facebook Book Studio 16 page, this year HarperCollins plans to offer programming every Saturday focusing on independent bookstores. With the hashtag #HarperCollinsLovesIndies, the publisher will work with booksellers "to devise unique content for their local customers, as well as book lovers the world over." The Facebook Live segments will run 15 to 45 minutes each, and feature bookstore owners and employees highlighting the qualities of their shops, sharing book recommendations and introducing themselves to a larger audience. Already Book Studio 16 has shared segments on some indies; last Saturday's focused on the King's English Bookshop, Salt Lake City, Utah.
"America is full of fabulous bookstores, from DDG Booksellers in Farmington, Me., to Vroman's Bookstore in Pasadena, Calif., and everywhere in between," said Lisa Sharkey, senior v-p and director of creative development at HarperCollins. "This is a great way for us to highlight our independent colleagues near and far."
Mary Beth Thomas, v-p, deputy director of sales at HarperCollins, added: "Independent bookstores are an important partner for publishers, and play a significant role in their communities. This program is a great way for them to share what makes their store unique."
Bookstores interested in participating should write to MaryBeth.Thomas@harpercollins.com.
---

---