AAP Sales: September Inches Up; Trade Books Up 1.3%
In September, total net book sales rose 0.7%, to $1.471 billion, compared to September 2015, and represented sales of 1,207 publishers and distributed clients as reported to the Association of American Publishers. For the first nine months of the year, total net book sales fell 5.8%, to $11.131 billion.
Trade book sales in September rose 1.3%, to $735.6 million, marking the sixth consecutive month of growth for trade books. For the year to date, trade book sales rose 0.6%, to $4.992 billion.
In September, adult book sales slipped 0.7%, to $493.1 million, while children's/YA rose 4.6%, to $187.5 million. Trade e-book sales fell 14.9%, to $96.2 million.
Sales by category in September: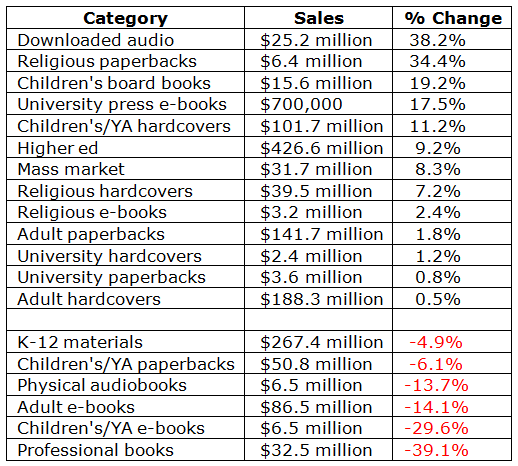 ---

---