'Local Bookstores Are Doing Just Fine, Thanks'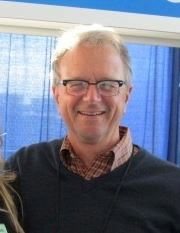 "In his May 8 column 'Hey Walmart, Amazon is eating your lunch,' Alex Beam states that Amazon 'put almost every local bookstore out of business'--italics his. This will come as quite a surprise to the more than 20 excellent independent bookstores in the metro Boston area, many of which have been doing healthy business for years. While it is true that Amazon has been a challenge to all local brick-and-mortar retailers, the bookstores that have survived the chains, recessions, and online shopping are having a resurgence.
"New bookstores have opened all around New England. Belmont Center will see a bookstore opening within the next few weeks. The national data show a 30% increase in independent bookstores since 2009, with a total of 2,315 at the end of the year. Further, those stores report an average sales increase of 5%.
"Our local independent bookstores continue to provide their communities with author events (at which Beam has appeared), book clubs, story times, and gathering places to discover new writers and ideas. These are things that are unique to independent bookstores that Amazon can never replicate. Let's put an end to the narrative that independent bookstores are closing, and let's celebrate their value to our cities and towns."
---

---