In Response: Amazon Gobbles Whole Foods Market
Last Friday, when Amazon announced its proposed acquisition (aka "definitive merger agreement") of Whole Foods Market, general media response and analysis was swift. The book industry and its allies, however, have been watching and adjusting to Amazon's overreach longer than most other businesses, and their reactions are well worth noting.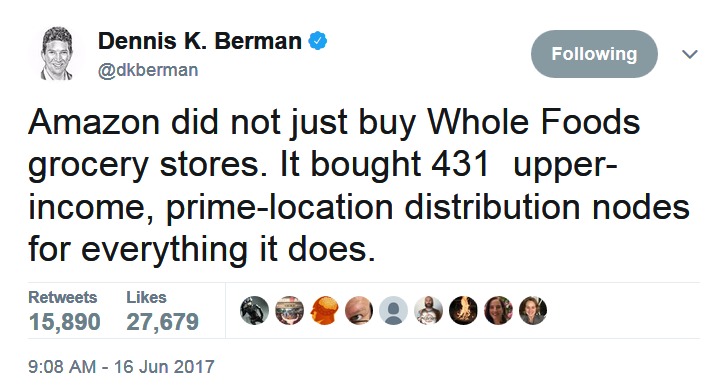 Stacy Mitchell, co-director of the Institute for Local Self-Reliance and co-author of Amazon's Stranglehold, issued the following statement: "Amazon's acquisition of Whole Foods raises significant anti-competitive issues that should be deeply concerning to federal antitrust regulators and the public. This deal would allow Amazon to leverage the Whole Foods chain in ways that would expand its monopoly power in online commerce, including by integrating these locations into its rapidly growing logistics and delivery network. And it would give Amazon, which already sells more clothing, books, toys, and consumer electronics than any other retailer, a substantial share of an even bigger consumer goods category, groceries. Regulators should block this acquisition."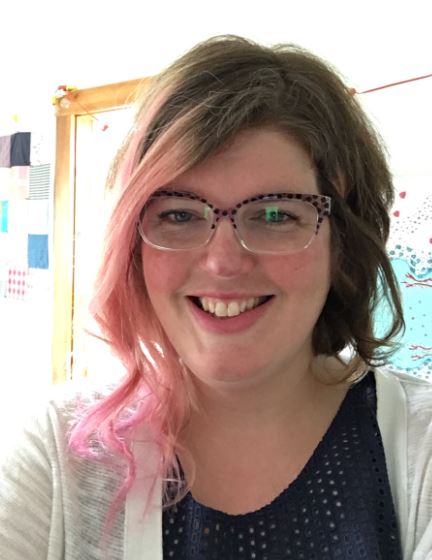 Lacy Simons
Lacy Simons, owner of hello hello books in Rockland, Maine, addressed the development in an extensive editorial: "This acquisition invites Amazon into our states and our towns in an unprecedented way, and gives them access to a grid they've been salivating over for a long, long time. It's ridiculous, given Amazon's monopoly on so much, this deal was allowed to go through, and I do hope there's an antitrust case against it. Just as significant, though, is the worry that as a nation, we're just letting it happen, because it's so easy."
Simons noted that "the majority of the special orders of used books we do for our customers are through ABE (which was once the most reliable, reputable source for quality used books, and is now, of course, owned by Amazon) and Amazon itself (which, no surprise, has about 95% of the online used book market cornered.)... This has always felt like a necessary evil--if we want to offer the service of ordering used books for people, we want to give them the widest possible array of choices.... The loss of their percentage of sales from used book special orders won't do much to Amazon's bottom line, but we're divesting. We're done. We're shutting down our ABE and Amazon accounts and limiting our used book special orders to much smaller companies, and we're raising our special order fee to $5 in order to establish a more sustainable approach to this service. I'll be frank: we might not be able to order as wide a variety of used books as we have before, and what we're able to order might not come as cheap; some of you may choose to skip doing those orders with us and do it yourself, and that's really okay. If you're dedicated to us, as so many of you thankfully are, I hope you'll understand why we're making this shift."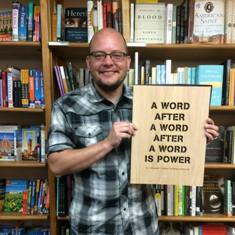 Jarek Steele
On Facebook, Jarek Steele, co-owner of Left Bank Books in St. Louis, Mo., posted: "Amazon (Jeff Bezos) used the book industry as a loss leader to take over the electronic entertainment industry (kindles lead to fire sticks and multimedia streaming) and general supply distribution, (and hired the united states postal service to make deliveries exclusively for amazon on sundays) then used that as leverage to own part of the media and movie industry (Amazon Prime for tv and movies and the Washington Post for news) and now is moving on to groceries (Amazon Fresh and Whole Foods)....
"If you think this will stop here, you are a fool. If you're not creeped out and terrified by this, I don't know what to say.... You want to be a part of a real resistance? Buy from local independent sources, Straubs (or other local grocers), Left Bank Books (or other local booksellers) or at the very least buy from a place that isn't owned by amazon."
---

---