Hurricane Harvey: Bookstores 'Bent, Not Broken'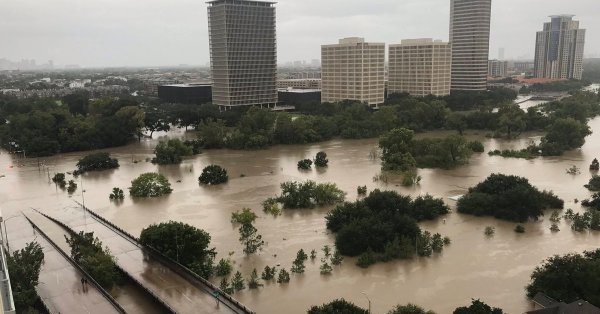 photo courtesy PBS
With several feet of rain predicted altogether, Hurricane Harvey, which came ashore Friday night, has caused "unprecedented" flooding in Texas, particularly in Houston, and continues to overwhelm the area. So far local bookstores have been relatively unscathed--staff is well and none of the stores have reported significant damage--but the storm is not over yet, and we wish the best to them and everyone else affected.
Blue Willow Bookshop, Houston, remained open on Saturday but did cancel the Texas Poetry Calendar event scheduled for Saturday, "our signature poetry event of the year," which would have featured 18 poets. A signing for Michelle Tam's newest cookbook, Ready or Not!, the latest in her Nom Nom Paleo series, was also postponed.
Late yesterday, Blue Willow said on Facebook: "We stopped by the shop, and all is well. We are very lucky. We continue to keep our bookselling friends and community in our thoughts and hearts."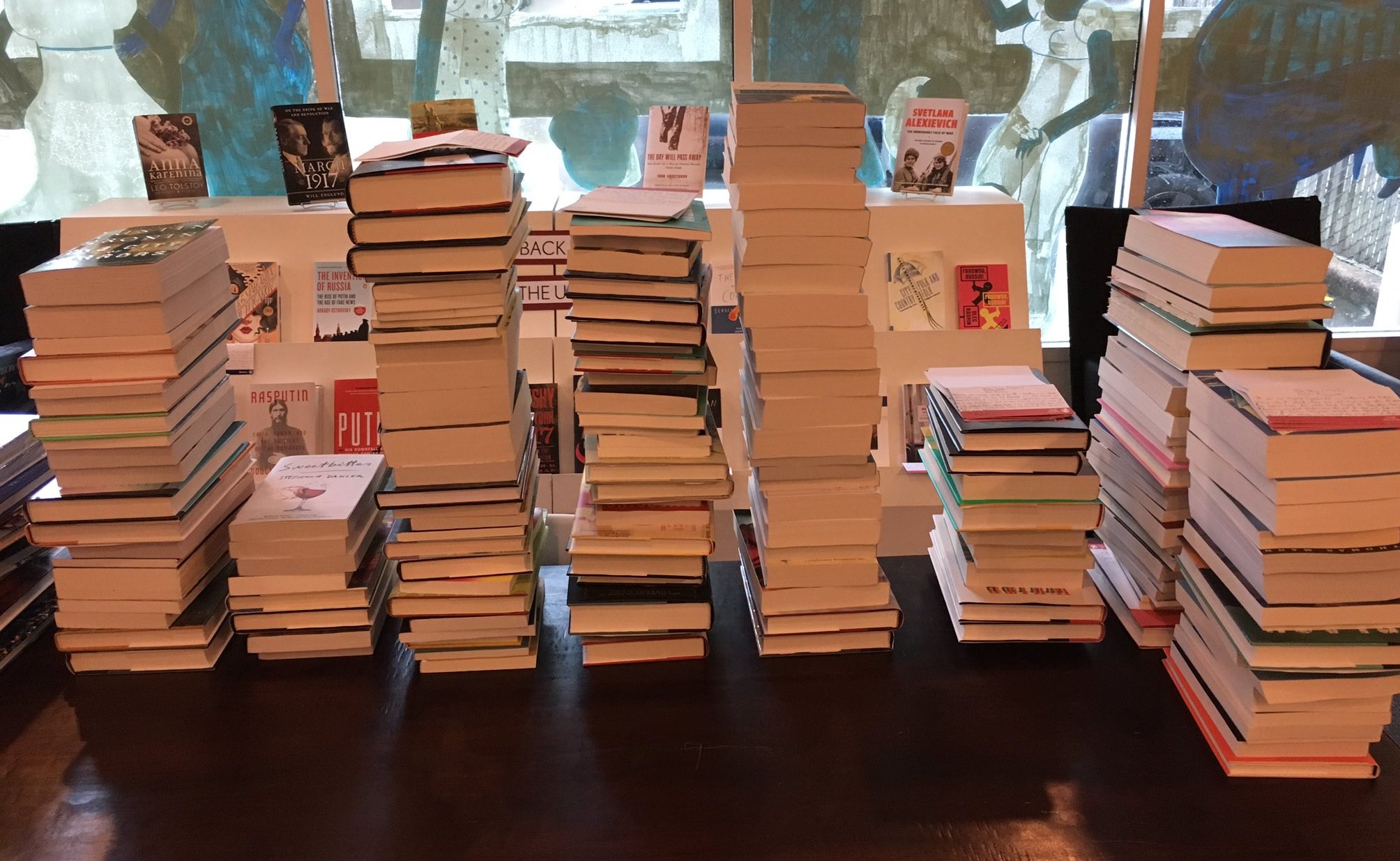 Pre-Harvey, Brazos removed books from the lowest shelves.
Brazos Bookstore, Houston, cancelled its regular Saturday storytime as well as Customer Appreciation Day, noting that "books are best read dry, as it turns out... and we might have to retitle our Saturday event 'Hurricane Appreciation Day.' "
As of late yesterday the store was closed, and general manager Benjamin Rybeck said, "We're gonna play the next few days by ear." Late Saturday the store was in good condition. Store staff is "safe and in good spirits, which is primarily what I care about.... I've received tons of notes from people though--other bookstores, publishers, authors--checking in and wishing Brazos well, which is a nice feeling and speaks to the generosity of our literary community. Maybe it's time for a Winter Institute panel on how to keep your bookstore from floating away!"
Murder by the Book in Houston reported on Facebook that it "has a few damp places where water came in, but it is minimal compared to what we expected" so it plans to open today from noon to 6. "We're happy to provide anyone who comes in with free coffee, charging stations, wi-fi and restrooms," the store wrote. "Please pass this along for those who have lost electricity, or who just need a break from sitting home in the rain."
The homes of all Murder by the Book staff are dry and have power. "We're of course all still watching the weather, and have a few rough days ahead, but so far we feel very fortunate. Stay safe, be kind, and we hope to see you tomorrow."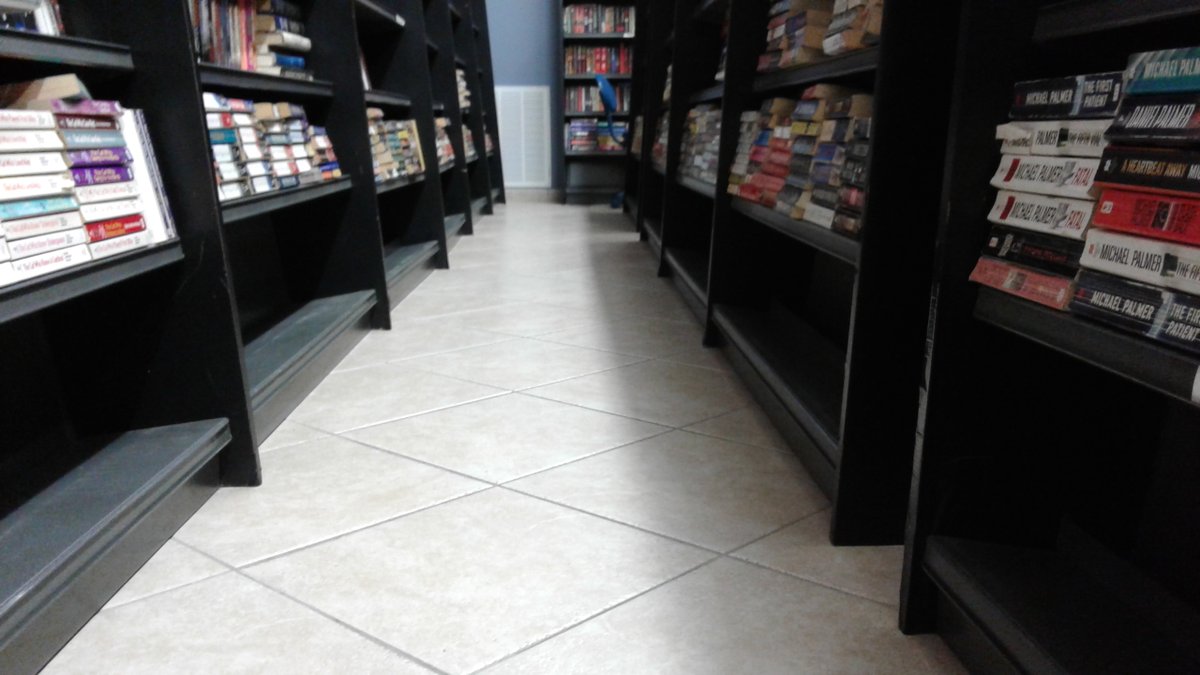 Storm prep at Galveston Bookshop
In preparation for flooding, Galveston Bookshop in Galveston cleared its lower shelves of books in preparation for flooding, cancelled its Saturday book signing and closed for the weekend.
Yesterday Galveston Bookshop's Paul Randall reported that the store was "dry, undamaged as of Saturday afternoon. Rain flooding is unlikely to cost us more than lost open hours and some mopping. A serious storm surge is what we were concerned about, and that seems much less likely at this point. But it's not over yet."
Richard Deupree, manager of Katy Budget Books, Houston, said yesterday that the store's "primary concern for the last 72 hours has been the safety of our staff (all 27 of them) and our customers. After monitoring the situation, we made the decision to close the store on Saturday and again today. We make these decisions each morning around 6 a.m., based on the latest info from the National Weather Service." The store then notifies staff via text and customers via social media.

Deupree noted that he is 63 and grew up on the Gulf Coast and has been through dozens of hurricanes. "Harvey is about the worst scenario possible. Cat 4 strength, hitting a very populated and low lying area, then stalling, pounding the area with high winds and several feet of rain for days. It's about as bad a set of circumstances as you could get."

There have been some silver linings, Deupree observed: "A crisis like this brings out the best in people. Utility linemen working to restore power in blistering winds and driving rain, risking their lives so others will be more comfortable. People from Louisiana (they call themselves the Cajun Navy) working their way to Houston as we speak, with small boats in tow to help with search and rescue. Neighbors helping neighbors...

"With all the bad news we've seen over the last few months on the national news--Washington politicians bickering and finger pointing--it's rather refreshing to see ordinary people coming together to help one another. Ironic is it not: out of catastrophe comes unity."

His overall message: "Texas... bent, not broken!"
---

---