Hurricane Harvey Update: Bookstores Slowly Recover, Make Donations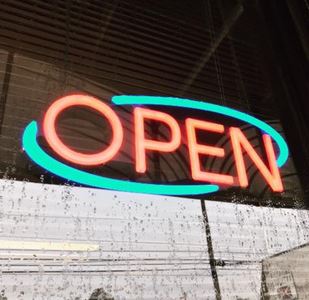 The sun shone in the Houston area for the first time in nearly a week, and bookstores were able to conduct business with some normalcy, although the effects of widespread flooding will last for a long time.
Yesterday, Murder by the Book in Houston was open its regular hours, 10 a.m.-6 p.m., and continued to offer "coffee, tea and snacks"--and shelter. And from 3-4 p.m. Divisi Strings played classical and pop favorites.

Brazos Bookstore in Houston was also back to normal hours and is donating 20% of its sales this week to the Hurricane Harvey Relief Fund, created by Houston Mayor Sylvester Turner to provide financial assistance for flood victims.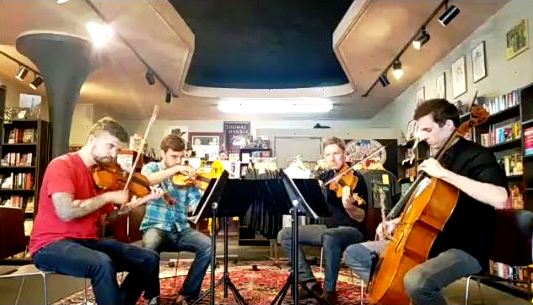 Divisi Strings performed at Murder by the Book yesterday.
Galveston Bookshop in Galveston was seeking a dehumidifier, after "lots of puddles" and "a few drowned books."
Katy Budget Books in Katy is doubling the amount it has available on its teacher credit accounts so that teachers are able to replenish classroom libraries. In addition, the store is asking customers who have come through the storm unscathed "to come in and purchase $25 gift cards for us to donate to various districts." Contributors can designate a particular school; otherwise the books will distribute to area districts, which can determine where need is greatest. Gift cards can be ordered online here.

"We know this incredible community is searching for ways to help those who are suffering, and we just want to give you a way to contribute to rebuilding our phenomenal education system," the store said.
---
Interabang Books in Dallas, Tex., is "standing in solidarity with our brothers and sisters in Houston" by donating 20% of its weekend sales, including both in-store and online sales, to the Hurricane Harvey Relief Fund. Interabang, which opened in Dallas earlier this summer and is managed by Jeremy Ellis, is following the lead of Brazos Bookstore (above), where Ellis was previously manager.
In a newsletter, Interabang Books offered a message of support to Houston indies, saying "we are glad to hear all bookstores remain above water and our thoughts remain with them and the rest of the city as relief efforts continue."
---
In September, Books Are Magic, Brooklyn, N.Y., will donate all funds from its poetry gumball machine to the Hurricane Harvey Relief Fund.
---
The Diesel bookstore in Oakland, Calif., that officially becomes East Bay Booksellers tomorrow will donate 20% of its opening weekend sales to Hurricane Harvey relief. New owner Brad Johnson called it the store's way of "honoring its history as a progressive cultural hub."
---

---