SIBA in NoLA: Community & Commerce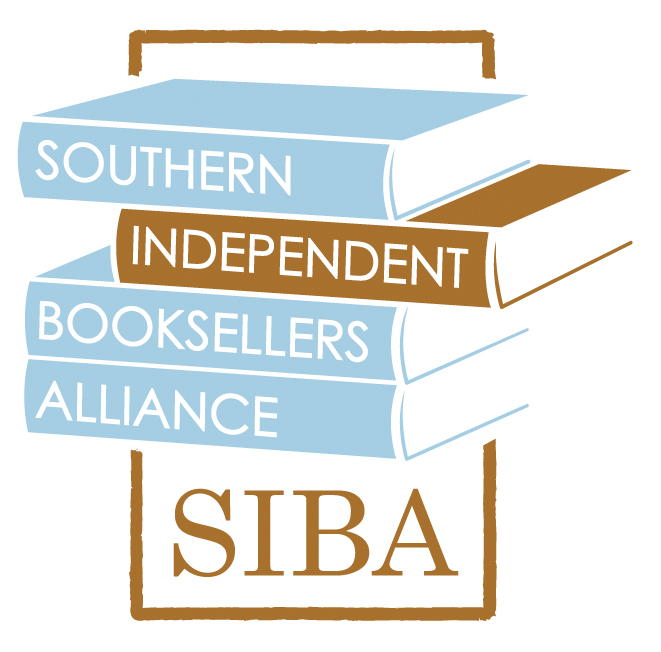 The fall regional season kicked off this past weekend with a vibrant Southern Independent Booksellers Alliance show, held this year at the Sheraton in New Orleans, La. SIBA organizers reported that show registrations were up 4% this year from last, with 72 bookstores registered, including 10 first-timers. Because of Hurricane Irma and ensuing travel difficulties, eight stores were unable to attend, including Books & Books in Coral Gables, Fla.
Before the show officially opened on Friday, SIBA offered an interactive workshop called "Diversity, Equity, and Inclusion: Addressing Stereotypes and Creating a Welcoming Environment," run by Ilsa Govan and Caprice D. Hollins of Cultures Connecting; the well-received session will be repeated at the Mountains & Plains Independent Booksellers Association show next month. That evening, Baker & Taylor treated booksellers to a raucous bus tour to Garden District Books, Octavia Books and Tubby & Coo's Mid-City Books, followed by dinner. Back at the hotel, the popular TRIO Live made its seasonal debut. For this exhibit, musicians and visual artists create a song or a work of art inspired by a book (see this season's titles here). Following SIBA, the exhibit travels to member bookstores.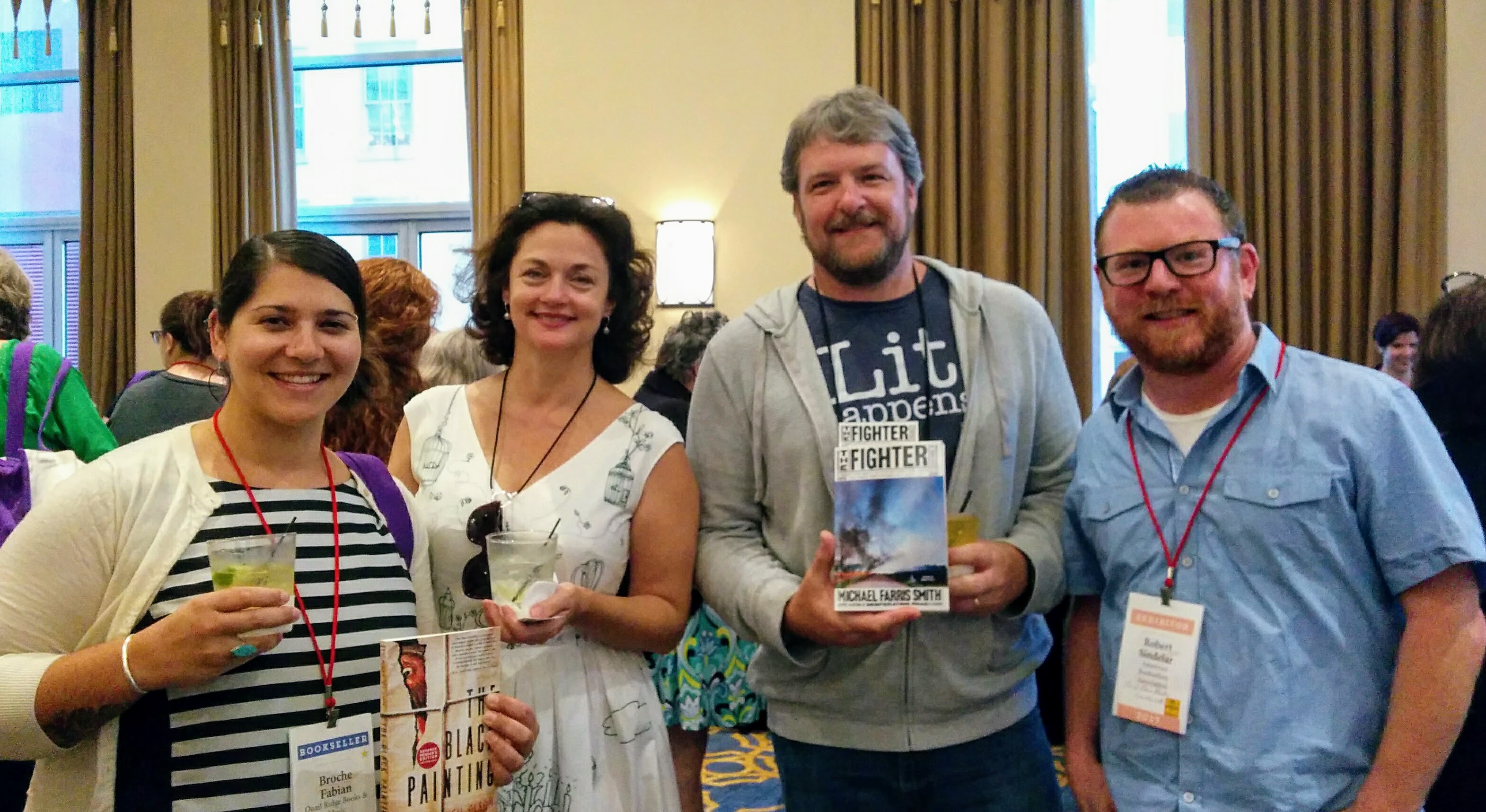 At "The First 180 Days" reception: Broche Fabian, Quail Ridge Books; publisher Lee Boudreaux; Dave Lucey, Page 158 Books; ABA board president Robert Sindelar.
Early the next morning, SIBA began officially with the annual meeting/town hall breakfast. Board president Doug Robinson of Eagle Eye Book Shop in Decatur, Ga., reported that SIBA is in a "good financial situation," with a board reserve fund of more than $100,000, and that the organization now has 138 members, down three from last year. A topic that was not on the agenda, but which came up frequently during the show was SIBA executive director Wanda Jewell's planned move to California. Off the record, several members explained that while Jewell does an excellent job, they feel the organization's director should reside in the region, in keeping with its aim to promote local businesses.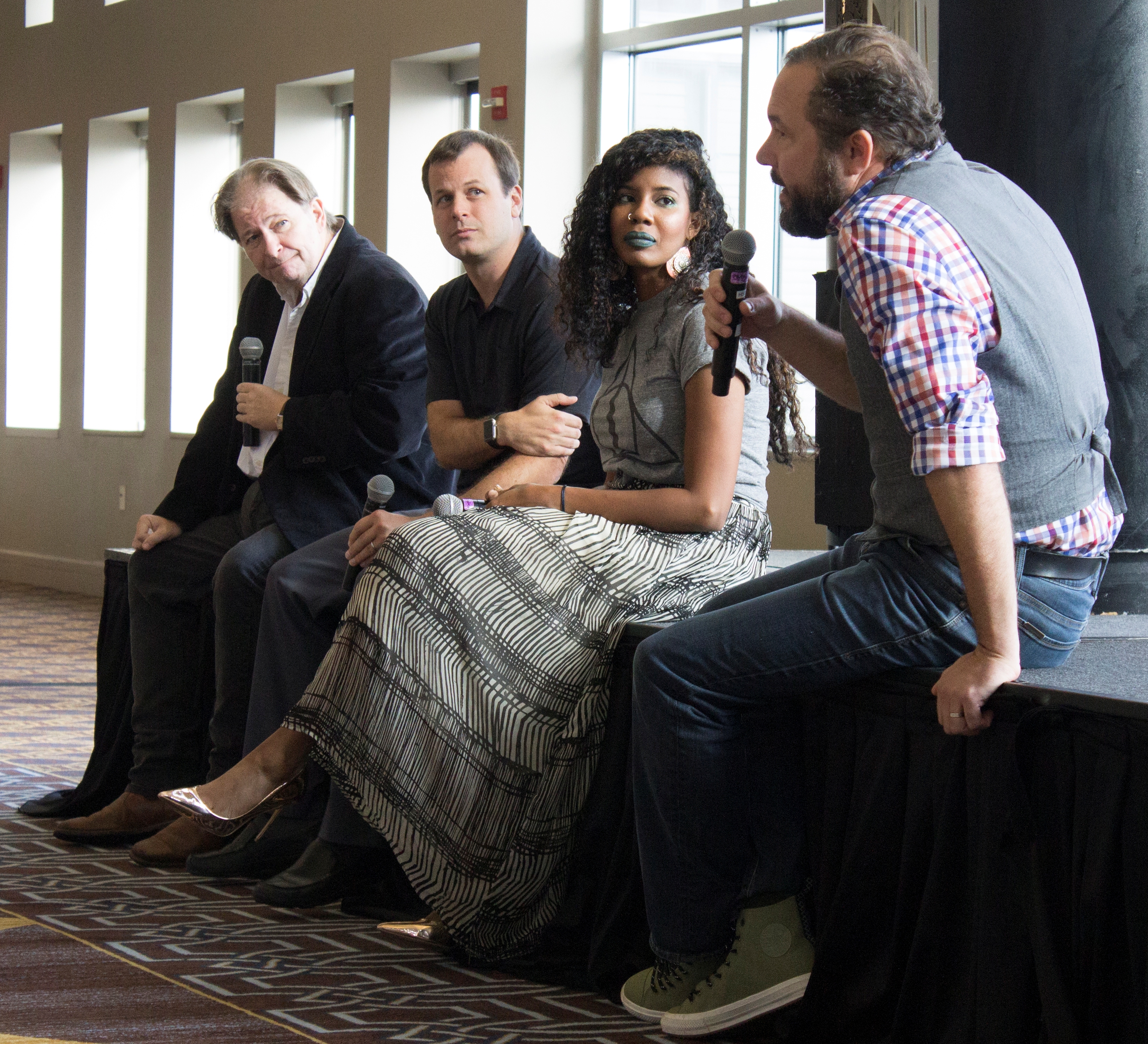 At the Sunday breakfast, Rick Bragg (far l.) introduced (l.-r.) Brendan Reichs, Nic Stone and Jonathan Miles. (photo: S.P. Rankin)
Among the crowded events schedule, standouts included a session on "Profiting from Trends," with Doug Robinson and SIBA assistant executive director Linda-Marie Barrett, that explored how stores can spot and capitalize on popular trends. Past trends like Pokémon Go and fidget spinners, even eclipse glasses, all brought customers into stores; the challenge is spotting the trend in time. Customers are interested in "becoming a better version of themselves," Robinson said, and stores can help in numerous ways: book subscription programs; building and curating personal libraries; book clubs promoted through social sites like MeetUp; and bringing events and pop-up exhibits into the community. Barrett pointed to the value of the "virtual experience economy" and the trend toward valuing group, rather than individual, experiences; displays like "What Our Community Is Reading" can build on that. Booksellers in the audience noted their success with podcasts ("From the Front Porch," produced by the BookShelf in Thomasville, Ga., was one example)--they're low-budget and easy to produce, and can have a big reach.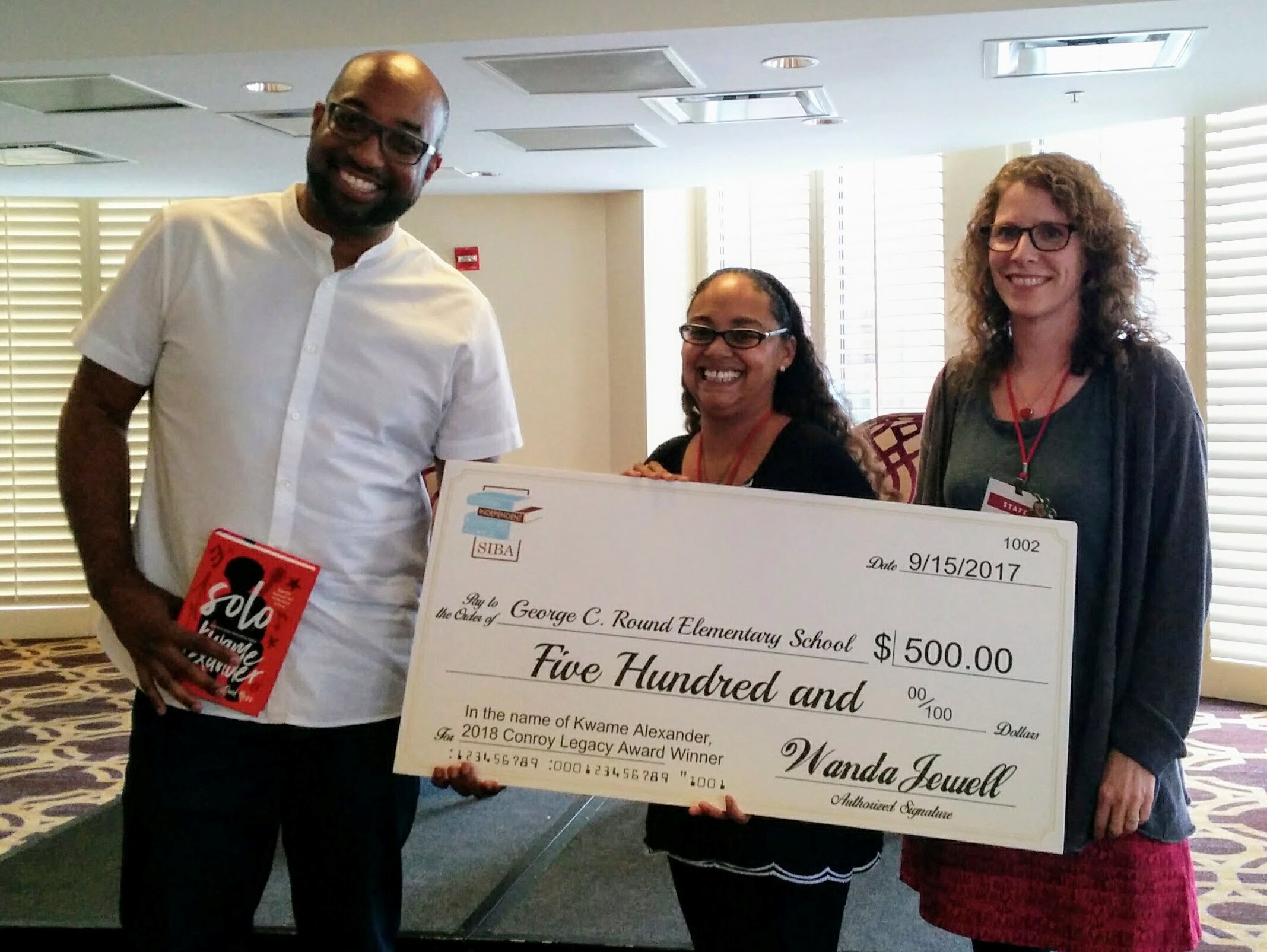 Kwame Alexander with SIBA board member Erica Merrell and SIBA assistant executive director Linda-Marie Barrett.
Other morning panels focused on social media, maximizing backlist, and inventory activism, which discussed ways booksellers can help and impact their communities--a theme throughout the show. Afternoon panels focused on authors: local, thrillers, women, YA, cookbooks and many more.
During the show, Kwame Alexander, author of 24 books--including The Crossover, which won the 2015 Newbery Medal and the Coretta Scott King Author Award Honor, and his latest, Solo--received the inaugural Pat Conroy Legacy Award. The award honors writers who have achieved a lasting impact on their literary community, supported independent bookstores and other writers, and whose writing focuses significantly on their home place. The honor includes donations to the Pat Conroy Literary Center and to a literary entity close to the heart of the winner.
During a wide-ranging q&a on Thursday with SIBA board member Erica Merrell (Wild Iris Books, Gainesville, Fla.), Alexander said, "When I read Pat Conroy's cookbook, I wanted to live that life. He was all the things a writer should want to be... all the things I've wanted to be." He added, "Every indie bookstore I've been to is bridging the gap between community and commerce."
Next year's show will take place in Tampa, Fla. --Robin Lenz
---

---