Fire and Fury Keeps Burning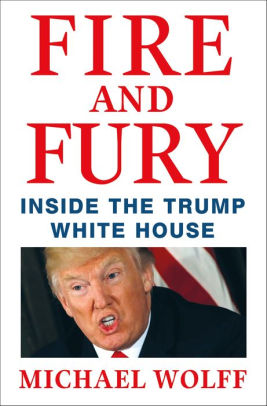 The furor over Michael Wolff's book Fire and Fury: Inside the Trump White House (Holt) continued on Friday and over the weekend.

President Trump and his supporters kept attacking the book--thereby increasing publicity for the book and the public's interest in it. For example, on Saturday at a press conference, Trump said, "I consider it a work of fiction and I consider it a disgrace." On Sunday, he tweeted, "I've had to put up with the Fake News from the first day I announced that I would be running for President. Now I have to put up with a Fake Book, written by a totally discredited author."
For his part, Wolff told the Hollywood Reporter, "I hear that the president is very angry, or, let me be precise: I hear that he is truly bouncing off the walls."
Stephen Colbert may have put the situation best when he tweeted, "One of the most surprising parts of Fire and Fury is how Donald Trump accidentally started a national book club."

If the book retailing world has any regrets, it's that it can't fully meet Fire and Fury demand. From indies to Barnes & Noble to Amazon, booksellers of all kinds said they don't have enough copies or don't have any because they didn't receive shipments in time for the new pub date last Friday. (Some shipments were delayed by frigid, stormy weather in the Northeast last week; others were scheduled to arrive in time for the original pub date of tomorrow.)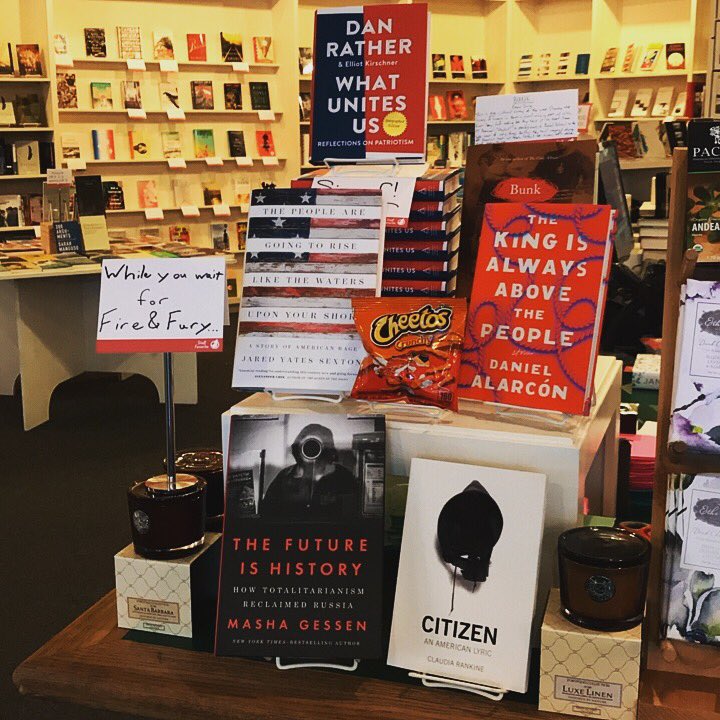 Brazos Bookstore in Houston, Tex., created a display of books to read "while you wait for Fire & Fury."
Like many stores, Watchung Booksellers, Montclair, N.J., didn't anticipate the demand for the book ("Who reads Trump books--and tabloid-y ones?"), but "when the hoopla started, I back-ordered several more," owner Margot Sage-EL wrote. "Now we have a truckload on back order." She observed that she doesn't know when they'll be arriving and worries that "it'll be a glut when every source gets them at the same time."
Changing Hands, Tempe and Phoenix, Ariz., tweeted that it had sold out of its initial order and expects more this week, adding, "And thanks for shopping indie. So gratifying to know that books and readers have the power to terrify a president who thinks nothing of violating your First Amendment rights."
The 20 copies of Fire and Fury that the Country Bookshelf in Bozeman, Mont., will receive today are all spoken for, and the store has reordered but doesn't know when they will arrive, according to owner Ariana Paliobagis. "We were a bit behind in getting Fire and Fury," she added, but books usually arrive the day before pub date "since we are a bit off the beaten path."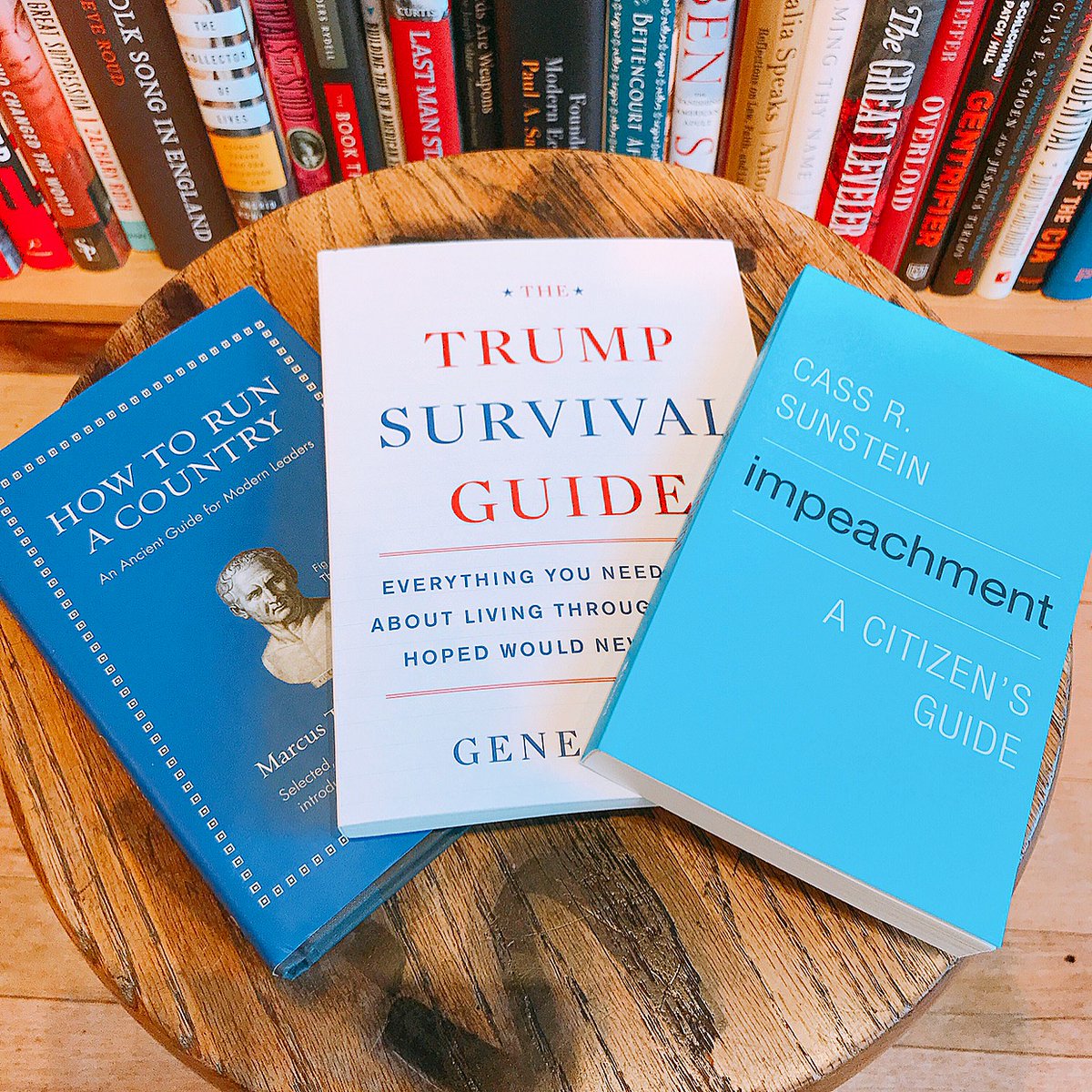 Kramerbooks in Washington, D.C., which sold out of its initial order within minutes, tweeted that it expects more copies today, and suggested some alternatives.
As at many indies, Barnes & Noble and Amazon didn't have full supplies of the book. At B&N.com, Fire and Fury is listed as "temporarily out of stock online" and "available on January 19." On Amazon, it's listed as "usually ships within 2 to 4 weeks."
Audio Fire and Fury
Demand for the audiobook version of Fire and Fury, read by Holter Graham, with an author's note read by Michael Wolff, made the audio edition an instant No. 1 bestseller at all the partner indies of Libro.fm, according to CEO Mark Pearson. The company is offering the book for 99 cents with membership and created an enhanced page for the book and included a free excerpt. In addition, Macmillan has agreed to make the audiobook free to all booksellers for the month of January through Libro.fm's ALC program.
Some booksellers are highlighting the Libro.fm audiobook version in lieu of the hard-to-find print version. At Village Books and Paper Dreams, Bellingham and Lynden, Wash., for example, the stores sold out of their initial shipment of the print edition, which co-owner Paul Hanson said was "not large because we didn't hear of the hype until it was too late." (The stores have taken more than 50 orders for the book, which it will be able to fulfill when copies arrive this week.)
In the meantime, Village Books promoted the Libro.fm audiobook, picking up "a good number of sales and new Libro.fm customers." Hanson added that it helps that the audio has "a good reader," Holter Graham.
Fire and Fury Reactions
The Astoria Bookshop, Queens, N.Y., announced that it is donating profits from Fire and Fury to the Voting Rights Initiative and the N.Y. Immigration Coalition because "ensuring that every citizen has the ability to vote, and that immigrants have access to healthcare, housing, education, and legal representation are two missions that we believe will make America a better place for everyone who lives here."
The store noted, "We believe the current occupant of the White House has fostered a toxic national environment. We are hopeful for a future where honest, thoughtful political discourse is once again possible."
On Friday, Tom Steyer, former hedge fund manager, major Democratic donor and leader of a campaign to impeach the president, told KQED that he has read the excerpts from Fire and Fury and plans to give copies to everyone in Congress. "When we started this impeachment petition on October 20, we felt every subsequent day would bring information that would bolster our argument [that] this was a dangerous, unfit president who needed to be removed from office," Steyer said. "From what I can tell, this book makes that case in very bold letters." As a result, he's bought 535 copies of Fire and Fury for "citizen-volunteers" to give to the office of every senator and representative.
Solid State Books in Washington, D.C., had one of the most amusing comments on the general situation, tweeting: "If you're still, like, looking for Fire & Fury, it doesn't take, like, a very stable genius to know, that, like, we have bigly numbers of copies, like, arriving Monday morning. It's gonna be huge!"
---

---