B&N First Quarter: Sales Fall 6.9%; Net Loss Rises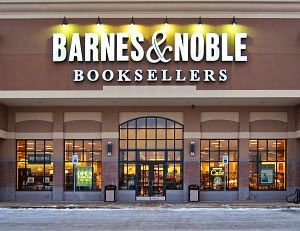 Total sales at Barnes & Noble in the first quarter ended July 28 fell 6.9%, to $795 million, and the net loss rose 57.4%, to $17 million. Both sales and the net loss were worse than analysts' estimates--sales were $38.6 million less than expected, and the net loss of 23 cents a share was 14 cents more than expected. As a result, in pre-market trading, B&N stock, which closed yesterday at $4.95 a share, is down about 7%.
In the quarter, retail sales fell 6.5%, to $775.7 million, while Nook sales were down 14.3%, to $25.3 million.
Sales at stores open at least a year fell 6.1%, although the company found a silver lining, saying, "Comparable store sales improved each month of the quarter, declining 7.8%, 6.1% and 4.5%. The sales trend continued to improve into the second quarter, declining 0.8% in August."
Chairman Len Riggio commented: "We fully realize that cutting expenses does not alone provide a path to the long term viability of any retail business. Therefore, our short and long term focus is to grow our top line, and, by doing so, provide us the cash flow needed to grow our business."
The company offered a positive outlook for the rest of the year, saying that as it "prepares for the holiday season, it is encouraged by the sequential improvement in its sales trend and the fall title line-up. The organization is focused on its merchandising initiatives to grow sales, while continuing to control expenses."
---

---