A Freethinker's Corner Bookstore Opens in Dover, N.H.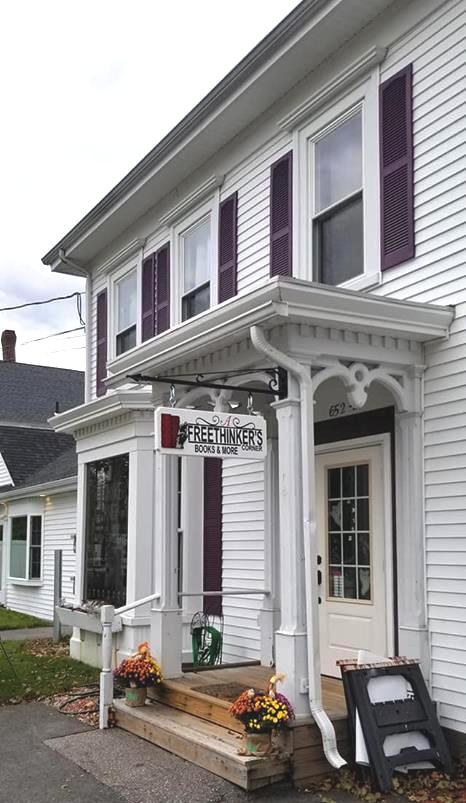 A Freethinker's Corner, a new and used bookstore that opened in Dover, N.H., in August, has expanded its inventory and "built a growing clientele," Seacoastonline.com wrote. Owner Chris Upton, who created the store with his wife, Kristen McPhee-Upton, said customers routinely say how glad they are to have a local bookstore in Dover.
The pair are aiming to make the store what Chris Upton called "a place where you can sit, and read and talk about books." Besides books, A Freethinker's Corner sells greeting cards and displays local art. It also has a room for book clubs, meetings and other functions for up to 25 people. There are plans for paint nights, poetry nights and author events.
Chris Upton retired as an air traffic controller in October at age 48, planning to work in a bookstore in retirement. But then he met with a financial adviser who said, Upton told Wicked Local, " 'Why don't you own a bookstore instead?' so we sat down and figured out how to make it work."
On the store's website Chris Upton wrote, "As a freethinker myself, the name A Freethinker's Corner represents our core goal and philosophy; a place that provides a wide selection of books to encourage intellectual growth, foster reasoned opinions, and stimulate rational conversations and debate. Our motto, 'think... act... and be outside the box' refers to being out of the 'social norms' box, allowing for physical, mental, and emotional growth; and the 'big retail' box by investing in local, independent people and businesses, helping our communities grow.
"Born, raised, and living in New England, I am fond of what the people and places of New England have to offer. Knowing that local, independent businesses are important to the vitality of our towns, communities and their people, A Freethinker's Corner believes in 'buy local, buy New England.' Here you will find books penned by New England writers, music produced and performed by musicians from around the area, and visual art created by talented local artists. These artists are chosen according to our philosophy of being organic in both quality and creativity."
---

---