Seattle's Madison Books Plans IBD Opening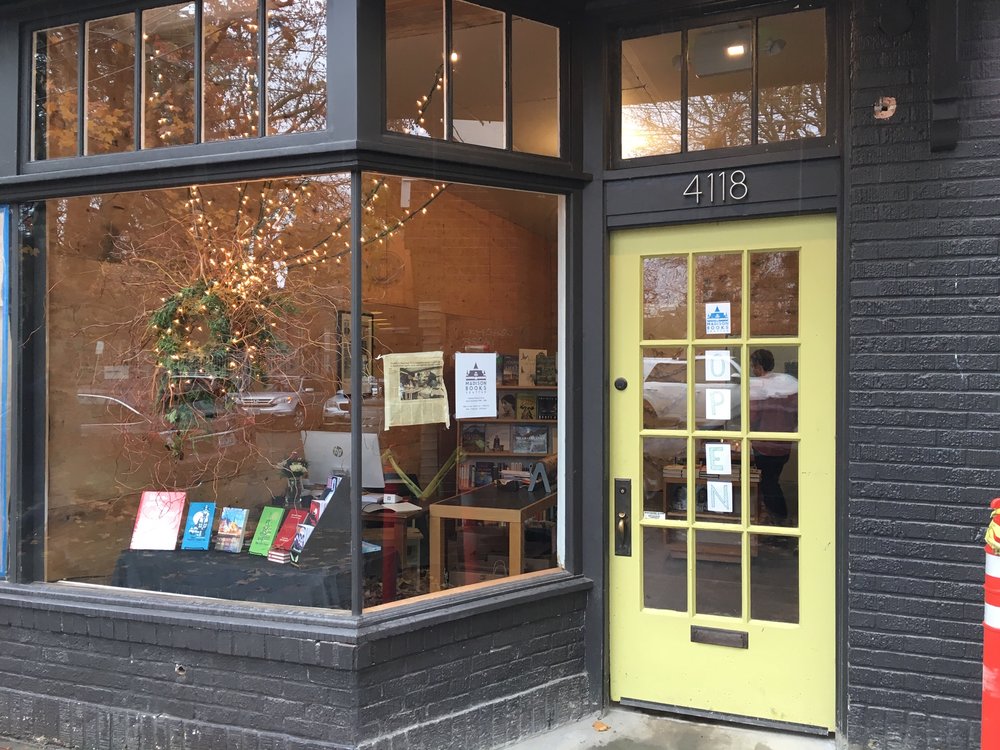 Madison Books in progress
When Madison Books opens in Seattle, Wash., on April 27, Independent Bookstore Day, it will be the first new, general-interest, independent bookstore in the city's Madison Park neighborhood since 2005. The roughly 400-square-foot bookstore is a sister store to Phinney Books, which opened in the Phinney Ridge neighborhood in 2014, and will be run day-to-day by manager James Crossley, a bookseller with more than 15 years of experience.
"It's been tremendous fun, really," said Crossley, who was the adult book buyer at Island Books on Mercer Island for around 11 years before leaving to help launch Madison Books. "I'm interested to see what it is the neighborhood wants."
Crossley reported that the plan is to make Madison Books a "general-interest, neighborhood bookstore," with no particular specialization and a little bit of everything available. Though the store is small, Crossley said, the space has tall ceilings and is "surprisingly capacious." There will be books for all ages, and at the moment, Crossley's plans for nonbook items are limited. Aside from things like greeting cards or journals, he intends to "keep the focus on books."
Madison Books opened last holiday season as a pop-up shop in the unfinished storefront, and Crossley said it provided an early look at what sorts of books their future customers might prefer. There were plenty of mystery fans, he recalled, and generally tastes were varied. Crossley added that his own tastes tend to gravitate toward fiction, and fiction in translation specifically. He explained that he was "particularly passionate" about helping readers find great books that they haven't "already heard about." At the same time, he prefers not to make translated fiction seem "too exotic" or "make a fuss" that it's from abroad. "I figure it should just be part of everybody's palate," said Crossley.
Madison Books will open on Independent Bookstore Day, and Crossley's plans for the day include hosting a party, with fun literary quizzes, snacks and drinks. While events are definitely part of the store's plan, Crossley noted that given the store's small size, it would be difficult to do any large-scale events. To that end, however, he hopes to partner with a variety of event spaces and venues in the neighborhood, and has "feelers out" in the area. And the store's first major off-site event will be in September, when Madison Books will be working with Phinney Books to sell books at a new children's book festival that will feature 40-50 authors.
Opening a new bookstore in Madison Park was a long time in the works, Crossley explained. After the neighborhood's bookstore closed in 2005, it became one local woman's mission to bring in a new bookstore: Susan Moseley, a lifelong resident of Madison Park, has been trying to fill that void for nearly 15 years. It was Moseley, in fact, who actually found the space in which Madison Books will open in a just a few weeks. Not interested in running the store herself, Moseley reached out to Tom Nissley, the owner of Phinney Books, and made a generous offer to help a bookstore get going in that space. And while Nissley thought it was a great opportunity, he was too busy running his own store to manage Madison Books. He then got in touch with Crossley.
"I've known Tom from the indie scene for a while," Crossley recalled. "I always felt in sync with how he ran his shop."
Although the shop's official opening date is Indie Bookstore Day, Crossley said he expects that some time during the week before, people "might see us in there with the lights on and selling books." He added that starting with the pop-up in December, he's had a first-hand look at how happy the community is about the bookstore.
"I'm really glad we decided to do the pop-up," said Crossley. "We got a preview of how excited the neighborhood is to have a bookstore again." --Alex Mutter
---

---