Wi15: ABA Town Hall
Major topics of discussion at the American Booksellers Association's town hall yesterday included the need for a reimagined business model, updates on the ABA's efforts to provide health insurance for booksellers, and questions and concerns about the imminent launch of Bookshop.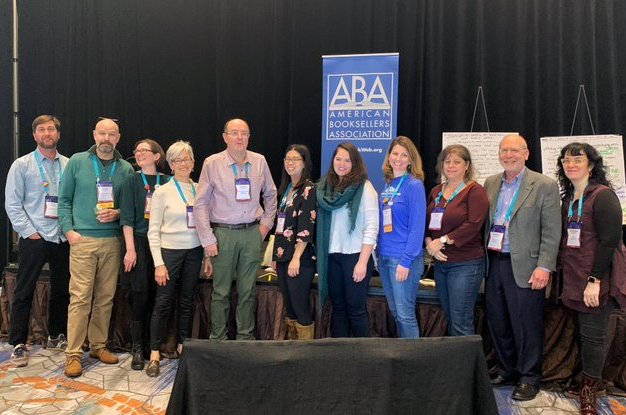 The ABA board
Perhaps the single largest topic of discussion was the need for a new business model for bookselling, with multiple booksellers, including ABA board president Jamie Fiocco of Flyleaf Books in Chapel Hill, N.C., commenting that the system is "broken," and that with booksellers' current margins, the business is "unsustainable." In response to these comments, Fiocco noted that the board is looking to redefine how booksellers work with publishers and that this issue was something that the CEO search committee had in mind when interviewing applicants. She added that she doesn't want booksellers to start seeing publishers as enemies, but the board does plan to reexamine everything about that relationship. At the same time, booksellers have to educate customers about the benefits of buying local and find ways to push back against the idea that everything has to be discounted.
Making bookselling a more environmentally sustainable industry was also a significant point. Last fall, the ABA created a Green Bookselling Task Force comprised of around 18 booksellers, and there was a green bookselling panel on the first day of Winter Institute (a write-up of which will appear in Shelf Awareness next week). It was the first education session about the topic since Winter Institute 12 in Minneapolis, Minn., and Fiocco noted that there will be more education related to it in the future. Booksellers also expressed frustration with the amount of metal and plastic swag sent out by publishers that is typically not asked for and often winds up in landfills, and wondered about ways to make shipping and packaging greener and more environmentally friendly.
On the subject of health insurance, the board reported that they had recently listened to a presentation from a group that showed a "great deal of promise," but could not give more details as discussions were still very early. Fiocco pointed out that any solution is going to be expensive "no matter how we slice it," and many possibilities are being looked at, including accounting structures that would allow booksellers to set aside money for employees that would be tax deductible. Kelly Estep of Carmichael's Bookstore in Louisville, Ky., said the board is hoping to find someone who can at least help bookstore owners and frontline booksellers navigate the health insurance process in a streamlined way, and any first step may be a relatively small one. Pete Mulvihill, co-owner of Green Apple Books in San Francisco, Calif., also encouraged booksellers to "vote this fall."
With Bookshop set to launch later this month, Gibran Graham of Briar Patch Bookstore in Bangor, Maine, expressed significant concerns about the service and worried that with its launch, booksellers would essentially be competing against themselves and be at risk of cannibalizing their own sales. Fiocco explained that one of the reasons the ABA is going forward with Bookshop is that the association doesn't have the capacity on its own to turn IndieBound into the seamless sort of shopping experience that consumers now expect from online stores. She stressed that Bookshop is not designed to compete with any indie's existing website and noted that at no cost any bookseller can get a piece of Bookshop's revenues. Mulvihill acknowledged concerns about Bookshop and reported that the decision was not taken lightly. He emphasized that Bookshop is a B corporation, its seven-person board includes three independent booksellers and there are legal clauses preventing it from ever being sold. Mulvihill added that while he was initially personally worried that Bookshop would compete against him and steal his customers, he's now been convinced that it will compete against Amazon and steal its customers. (Bookshop creator Andy Hunter held an in-depth session about Bookshop afterwards that addressed many of the concerns, a session that will be reported on in Shelf Awareness next week.)
There were calls for the ABA to expand programming and take further action on a number of subjects, including working to combat the widespread biases against both children's and genre bookselling; bringing more Spanish-language books and books by people of color into the galley room and rep pick sessions at Winter Institute and other trade shows; the creation of a national advertising campaign for independent bookstores; and encouraging independent booksellers to take part in the 2020 Census. --Alex Mutter
---

---