Decision Time: Some Indies Are Reopening
As many states begin to alter or lift restrictions on retailers shuttered by the Covid-19 crisis, indie booksellers are facing complicated decisions regarding when to reopen safely and how to do business in a substantially altered environment.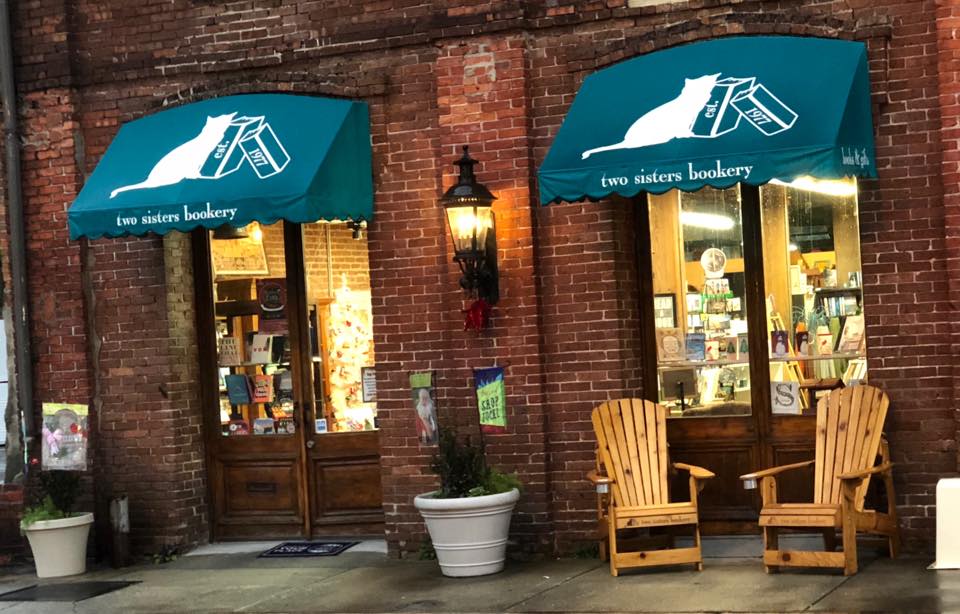 Two Sisters Bookery, Wilmington, N.C., reopened May 2 with the following safety precautions: "Hand sanitizer provided at the door; one mask per person will be provided, but not required; touchless checkout; four customers in store at a time; NO children at this time; continual use of disinfectant wipes before, during and after hours; the gate is open with free parking."
Co-owners Wendy Withers and Denean Wisely launched Books Are Awesome, Parker, Colo., earlier this year, but "their venture had to close its doors to a bookstore's bread and butter--foot traffic and browsers," the Sun reported. Now reopened, they are "prepared, masks in place and spray disinfectant in hand, to welcome back a public that's still learning they exist." Withers said: "I think people are going to come out when they feel safe, and I'm not sure they feel safe yet.... I think we'll see a little growth, but as far as families coming in, I don't think they'll be knocking down the door yet. How long will it take? This could last a while."
The Book Bungalow, St. George, Utah, is reopening today, though events will continue to be held virtually for the time being. In the shop's e-newsletter, owner Tanya Parker Mills wrote: "As we open, we would greatly appreciate your continued support by: wearing masks when in the store (we will be); waiting patiently on the porch if too many are already inside browsing; using hand sanitizer (we'll have some in each room) before handling books."
Griffon Books and Games, South Bend, Ind., also reopened, noting that it "will be following the CDC's guidelines as well as the governor's. No more than 12 people at a time in the store to help maintain social distancing guidelines, staff will be wearing masks and we encourage our customers to wear them as well. We will not turn anyone away for not wearing one but we again encourage you to do so for your safety and ours. There will be hand sanitizer at the counter for staff and customer use. We will continue to evaluate and make appropriate changes as deemed necessary."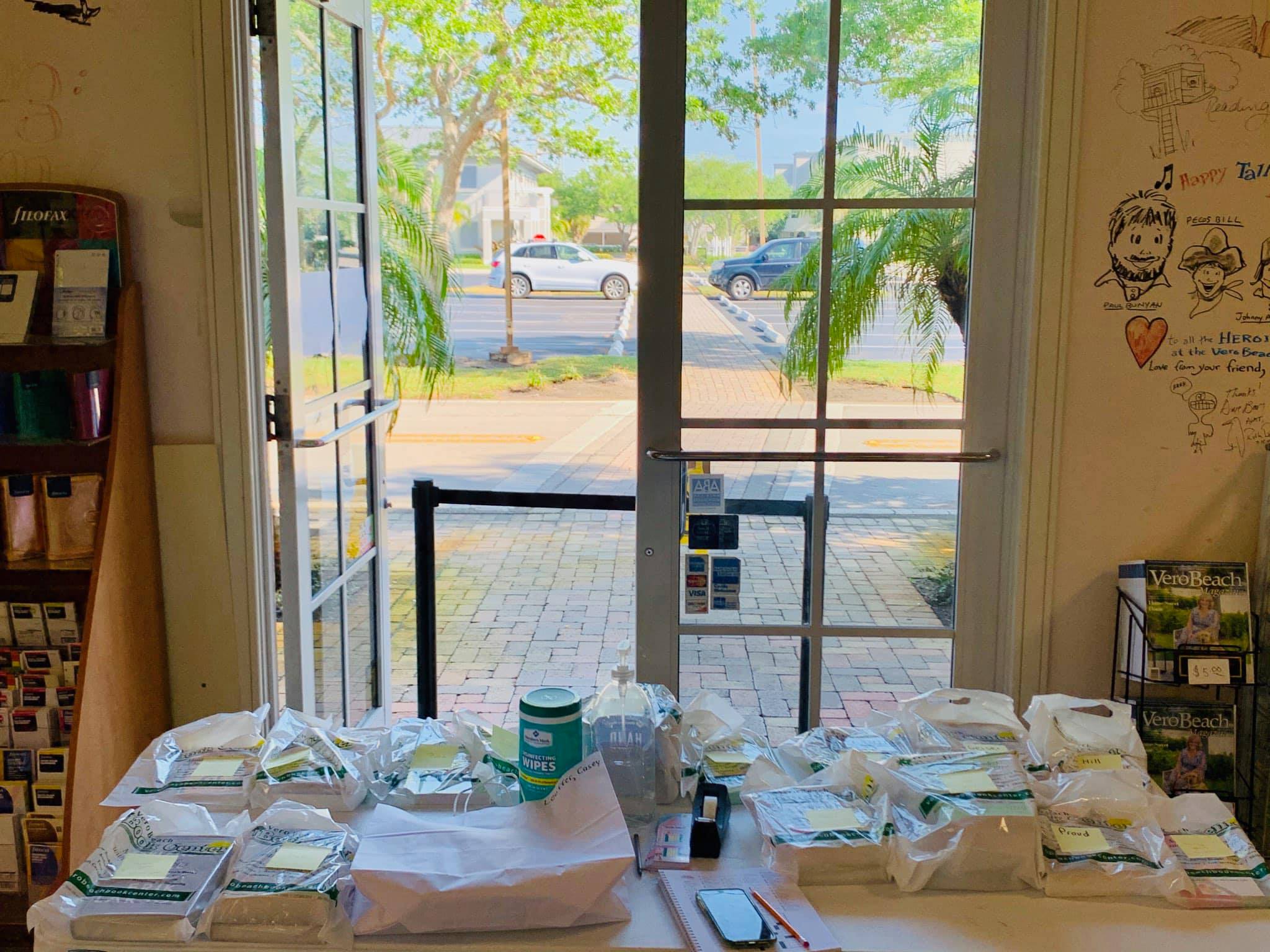 Books ready for curbside pickup at Vero Beach Book Center.
The Vero Beach Book Center, Vero Beach, Fla., is back in business, but "we need everyone to follow the Phase One Opening Guidance: If you have been sick within the past two weeks, please don't come into the store.... If you have been in contact with someone who was sick within the past two weeks, please don't come into the store.... Once inside the store, please maintain at least 6 feet between yourself, staff, and other customers.... [F]or the time being we can't have children in the store for just playtime."
Sassafras on Sutton, Black Mountain, N.C., will reopen May 9 "(as long as our Stay at Home order is not extended).... We will be following all safety guidelines including limited number of customers in the store. For now, customers will be asked to wear a mask and use our hand sanitizer prior to entering. We will be cleaning and disinfecting to protect us all. Stay home if you're sick or have been exposed to someone sick. We want to be back open, but we also want to stay healthy! Practice social distancing. All the things to keep us all well."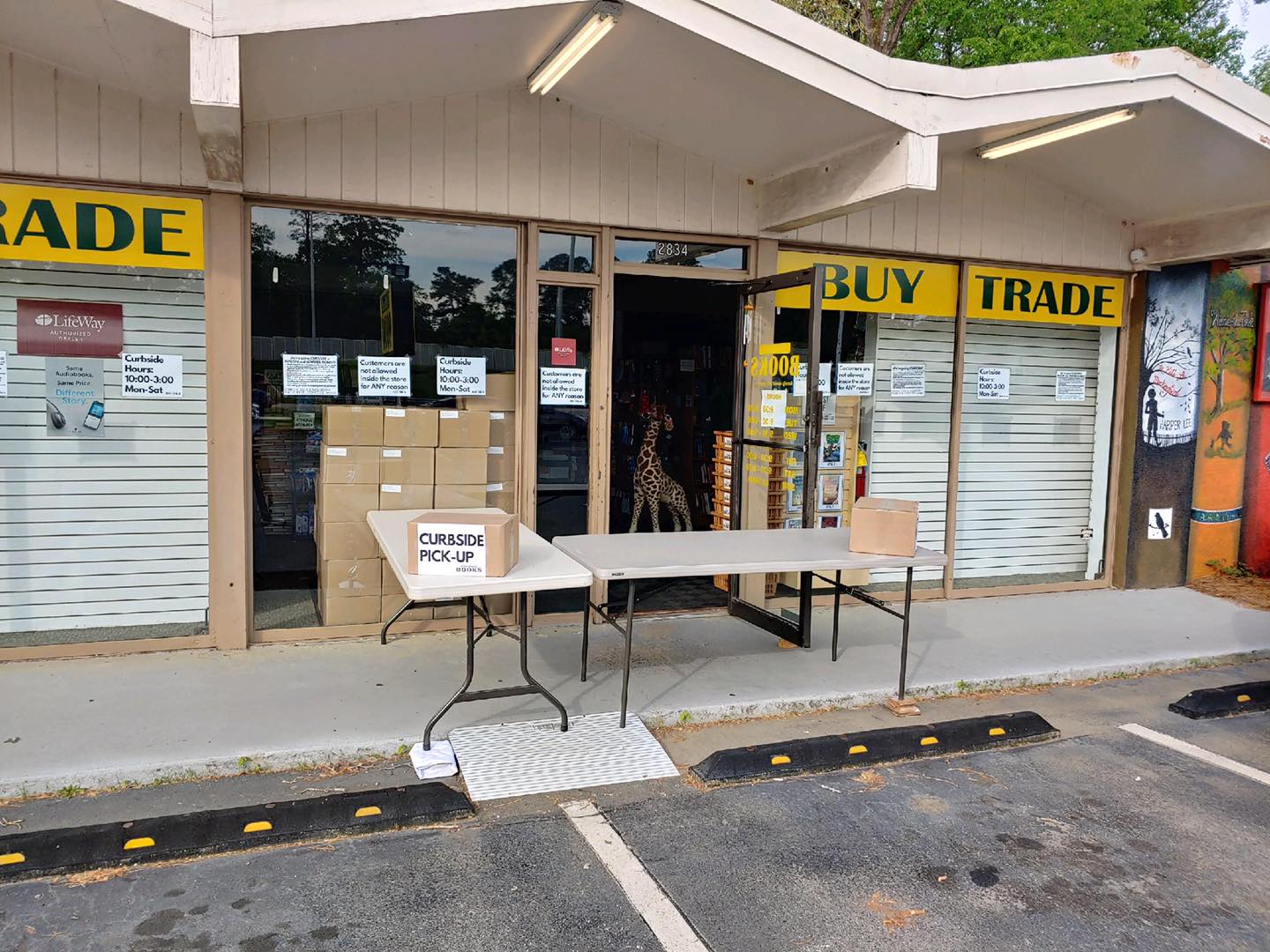 Curbside pick-up at Gottwals Books.
Gottwals Books had an update on stores in Georgia: "We're back to normal hours this week in Macon and Warner Robins. We hope to have Byron and Perry up and running soon. Book trades are now being accepted again, too!"
Other booksellers are holding off reopening for the moment. In Memphis, Tenn., novel. posted on Facebook: "Hey guys! Lots of you are asking if we will be open for browsing/shopping on Monday, and while we would love to see your faces, we are not quite ready to open the doors yet. We are sourcing extra supplies and working with others in our industry to take a careful look at operations to ensure that when we do open, we are doing everything we can to keep our customers and employees safe."
Bruce and Laura DeLaney, co-owners of Rediscovered Books, Boise, Idaho, wrote: "We are taking it slow. Although the state has allowed retail stores to open in a limited fashion to the public, we are not changing our operations at this time.... We are a small staff, and the exposure of just one of our booksellers would have a significant impact on all of our operations. We also feel strongly that we need to reduce risk as much as possible for our customers who shop here."
Yesterday, in an e-mail to customers, Tom Holbrook of RiverRun Bookstore, Portsmouth, N.H., noted that the store could open as early as May 11, "but it is unlikely we will be doing it that soon. Our inventory of over 10,000 individual items means that ensuring that each of them is sanitary and safe would be very difficult if people could simply walk in and browse around."
Noting that most people he saw outside in Portsmouth on Saturday weren't wearing masks, he added, "I don't think this is going to be over any time soon, and I think it's going to come back hard again in the fall." Still, depending on case trends in New Hampshire and Massachusetts, which has been particularly hard hit, he might open on June 1, "but even then, coming into the store will be a radically different experience than it has been in the past," he wrote.
---

---